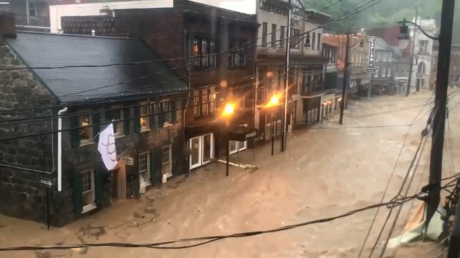 Residents in the cities of Ellicott and Baltimore scrambled for safety as heavy rainfall brought flash flooding to the area. Videos posted on social media show raging torrents of water deluging neighborhoods.
A flash flood emergency was declared in Ellicott City on Sunday. A video posted by locals show the city's Main Street awash with muddy water. (WARNING: EXPLICIT LANGUAGE)
"This is an EXTREMELY DANGEROUS AND POTENTIALLY CATASTROPHIC situation and you must move to HIGHER GROUND IMMEDIATELY AND STAY AWAY FROM ANYWHERE WHERE WATER IS MOVING," National Weather Service Baltimore said in a Twitter statement.
The flood warning was also issued for Baltimore. A video filmed outside the city shows cars abandoned on the streets being devoured by water.
Ellicott City, which is situated just 55 meters (180ft) above sea level, is experiencing flooding on the same scale as it saw in 2016, the Howard County government said. The 2016 Maryland flood caused severe damage to the historic center of the city, affecting many homes, businesses and famous sights. Two people perished at the time.
As of Sunday evening, the flash flood emergency has been extended to include areas along the Patapsco River in Anne Arundel County, as well as the entirety of Howard and Baltimore Counties.
While there have been no reports of casualties so far, the flood apparently caught some visitors by surprise.
"Thank God for good people who took us in off the streets! Anxiously waiting for the rain to stop and floods to slow," Kat Foster, who escaped the rising waters, wrote on Twitter, posting a video of the deluge.
As the water swept through the city, numerous videos posted online showed the flood rising to engulf the ground floors of buildings and stream into open windows.
The fast-moving water trapped dozens of cars on the street, with lone standing vehicles being swept away.
Authorities in Maryland are warning locals not to cross roads with standing water, as the flood has caught some of them midway in traffic. Governor Larry Hogan urged residents to "use extreme caution" and "avoid travel as possible."
Governor Hogan says he has declared a state of emergency in Maryland, instructing the local emergency agency "and numerous other state agencies" to assist in mitigating the aftermath of the disaster. Hogan said he is on his way to Ellicott City, the worst to be hit by the flooding.
I have spoken to Howard County Executive Allan Kittleman & am currently heading to Ellicott City. I have directed @MDMEMA to assist in any capacity possible, and numerous other state agencies are providing support. I have declared a State of Emergency. #ECFlood#HoCoMd

— Governor Larry Hogan (@GovLarryHogan) May 27, 2018
There have been reports of buildings crumbling as result of the continuing flash flood, Howard County Fire and Rescue reported, saying that collapse rescue teams are heading to the scene.
#ECFlood | Reports of building collapses in #Ellicott City | Collapse rescue teams en route | In some areas, water is above the first floor of buildings.

— Howard Co Fire & EMS (@HCDFRS) May 27, 2018
Howard County Fire and Rescue urged residents to assist them by evacuating, warning that more rain is expected to hit the city.
"If you are in downtown Ellicott City now watching the rescues, please help us by evacuating. More rain is expected, and conditions are rapidly changing," it wrote on Twitter.
Via RT. This piece was reprinted by RINF Alternative News with permission or license.