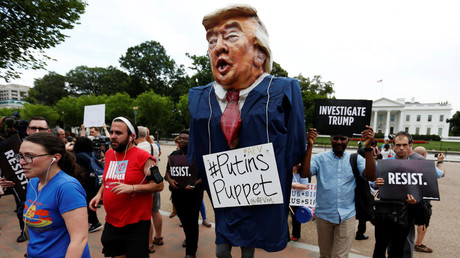 After a year-long investigation, the US House Intelligence Committee released a report Friday officially confirming there was no collusion between the Trump campaign and Russia in the 2016 US presidential election.
Vindicated by the report, President Trump took to Twitter to celebrate the news and call for an end to the other "Russiagate" investigations that are still ongoing. White House Special Counsel Robert Mueller is still looking into Trump's alleged involvement with Russian actors, despite his failure to find concrete evidence or convict anyone of collusion in the year since the probe began.
In addition, the Democratic National Committee (DNC) filed a multi-million dollar lawsuit last week against the Trump campaign, the Russian government and WikiLeaks.
Despite the report's conclusions, Democrat Rep. Adam Schiff (California) vowed to continue to look for collusion.
"We will continue our investigation using every means at our disposal; to do otherwise would ignore our responsibility to conduct meaningful oversight and insure that the Russians do not possess leverage over the President of the United States," he said in a statement on Friday.
Schiff later tweeted his dissatisfaction with the report:
In a submission to Congress last month, House Democrats blasted the Republican-led investigation.
Its conclusions, they wrote, "have been crafted to advance a political narrative that exonerates the President, downplays Russia's preference and support for then-candidate Trump, explains away repeated contacts by Trump associates with Russia-aligned actors, and seeks to shift suspicion towards President Trump's political opponents and the prior administration."
For Republican and Trump-supporting pundits, however, the report served to confirm what they believed all along: that Donald Trump is innocent, and that the "Russiagate" investigation is a politically-motivated witch-hunt.
The report did not please some anti-Trumpers and #resistance members on Twitter, though, who ignored its findings and continued to scream "Russia!" to anyone still listening:
Former CIA Director John Brennan called the report "highly partisan" and said that it "means nothing." Brennan hinted that Mueller's ongoing investigation would be more authoritative, and comprehensive, warning President Trump to "stay tuned."
If you like this story, share it with a friend!
Via RT. This piece was reprinted by RINF Alternative News with permission or license.