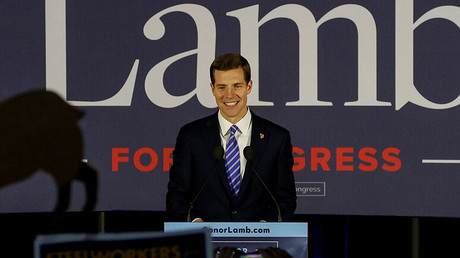 Democrat candidate Conor Lamb has claimed victory in Pennsylvania's razor-tight special House election. But, in a dramatic twist, Republican candidate Rick Saccone is refusing to concede defeat.
There was just a few hundred votes between the two candidates in the competitive race for the conservative 18th District seat on Wednesday morning.
Democrat Lamb claimed victory late on Tuesday, but Saccone is not accepting defeat. No official results have yet been released.
"We are absolutely not conceding," National Republican Congressional Committee spokesman Matt Gorman said on Wednesday. "We're not ruling out a recount or any other further legal action."
"We are still fighting the fight. It's not over yet," Saccone said on Tuesday.
Absentee ballots are in the process of being counted, as well as the military vote.
Electoral victory in the congressional district is exceptionally important for both parties. The district has been seen as President Donald Trump's home turf since he scooped a decisive victory there by 20 percentage points in 2016.
Republicans have been shaken by the unexpectedly competitive nature of the race. Republican House Speaker Paul Ryan warned that it was a "wake-up call."
He accused Democrat Lamb of running as a conservative, in defiance of a traditional Democratic stance. "They were able to pick a candidate who could run as a conservative," Ryan said at the Republican leadership's weekly press conference on Wednesday.
"The candidate that's going to win this race is the candidate that ran as a pro-life, pro-gun, anti-Nancy Pelosi conservative. That's the candidate that's going to win this race," Ryan said.
If #PA18 proved anything, it's that all politics are local.

The Dems picked a candidate who better resonated w/locals. Rs need to stop worrying about line of succession and making heirs apparent out of big donor lackluster candidates.

We need winners, not placeholders.

— John Cardillo (@johncardillo) 14 March 2018
Others questioned how effective grassroots conservative organizations had been at mobilizing voters.
What are conservative grassroots organzations, and there are many, doing with all their donations if they aren't mobilizing votes key race? #PA18

— Jack Posobiec 🇺🇸 (@JackPosobiec) 14 March 2018
Think your friends would be interested? Share this story!
Via RT. This piece was reprinted by RINF Alternative News with permission or license.