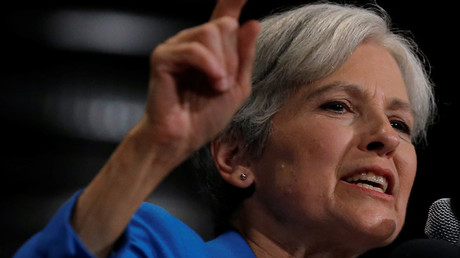 A federal judge in Michigan has ordered a hand recount of presidential ballots. Green Party presidential candidate Jill Stein is seeking an emergency federal court order in Pennsylvania for a statewide recount.
MICHIGAN
"The idea that we can't confirm the results of a presidential election is frightening," Jonathan Abady, lead counsel for the Stein recount, told reporters outside Trump Tower in New York on Monday.
"The idea that we do not have working systems to ensure the accuracy for the vote is frightening. The idea that people are opposing the effort to verify the vote is frightening and disturbing."
The Stein campaign announced early Monday that a federal judge in Michigan granted an emergency request to immediately start the statewide recount.
"The fundamental right invoked by plaintiffs – the right to vote, and to have that vote conducted fairly and counted accurately – is the bedrock of our nation," US District Judge Mark Goldsmith wrote in his opinion, according to the Detroit Free Press.
Michigan's recount is set to begin at noon Monday.
Trump defeated Clinton by 10,704 votes in Michigan. 
PENNSYLVANIA
The Stein campaign filed an emergency federal court order in Pennsylvania on Monday for a statewide recount.
An updated count on Friday by state election officials showed Trump's lead shrinking to 49,000 from 71,000 over Clinton, out of six million votes cast, as more counties finished counting overseas ballots and settled provisional ballot challenges.
The lawsuit states that Pennsylvania's system "is a national disgrace," and violated the equal protection and due process clause of the Fourteenth Amendment, as well as the First Amendment, for failing to ensure the right to vote for all citizens.
"It has become clear to us over the past several days that the level of obstruction, the barriers to this effort are so extreme and so radical and the state system is so ill-equipped to deal with that that we have no choice but to seek federal intervention," Abady told reporters.
Stein said one of those obstruction efforts involved a demand that the Stein team provide 27,000 affidavits from 9,000 voting precincts in order to proceed with their recount request.
Abady said Pennsylvania is using antiquated and unreliable voting machines, there was
no paper trail for many of the machines, and the court imposed exorbitant fines for a recount.
"We are here to assure Donald Trump there is nothing to be afraid, put down your arms and your bureaucratic obstruction," Stein.
WISCONSIN
The recount is already underway in Wisconsin and continued over the weekend, with little change so far in the unofficial results as reported on election night.
A Trump voter and two super PACs filed a federal lawsuit last week to stop the recount. State and local election officials have all said they don't expect Clinton to surpass Trump in the state where he won by about 22,000 votes.
Stein said she doesn't expect to change the outcome of the presidential election but wants to test the integrity of voting systems.
Via RT. This piece was reprinted by RINF Alternative News with permission or license.