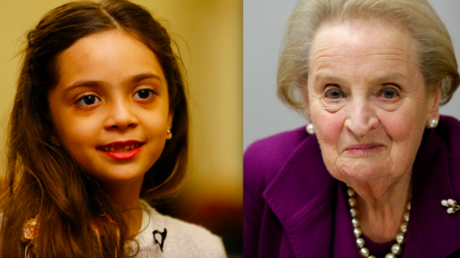 The pro-NATO Atlantic Council think tank is set to honor former US Secretary of State Madeleine Albright and Syrian child activist Bana Alabed at its Freedom Awards this week.
The Freedom Awards honor individuals who "defend and advance the cause of freedom around the world" and will be hosted in Berlin later this week — but the nominations have caused quite a few puzzled reactions online.
According to the Atlantic Council website, Albright will be recognized for her "championing of global democracy" and as an exemplar of "the power of diplomacy in achieving solutions to the most pressing challenges facing our world."
Albright seems like an odd choice, however, given she is known around the world for defending US sanctions on Iraq which caused the deaths of more than half a million Iraqi children.
When asked in an infamous 1996 interview if she thought the sanctions were "worth" the price — the price being hundreds of thousands of dead children — Albright replied almost without hesitation, that "the price is worth it."
Leslie Stahl; Half a million Iraqis died, women and children, because of the sanctions was it worth it?
Albright: Yes, it was worth it. https://t.co/zMXDilzURQ

— Justin Raimondo (@JustinRaimondo) June 19, 2018
Alongside Albright will be a 9-year-old Twitter activist who is no stranger to controversy herself. Numerous Syrian and international commentators have argued that Syrian opposition icon Bana Alabed has been exploited by her parents and others as a propaganda tool for a pro-war agenda.
Somewhere in an alternative reality universe, eight year old Bana, a child 'Human rights activist' linked to the western branch of the Syrian #alQaeda, the #WhiteHelmets, appears along Mrs Albright, the 'it was worth it to kill 500000 Iraqi chidlren' lady, as a freedom awardee. pic.twitter.com/LCr3tAI7r6

— Sophia (@les_politiques) June 19, 2018
Bana began tweeting pro-US intervention messages on Twitter when she was just seven years old. Her tweets were written in perfect English and often incendiary. On one occasion, Bana's Twitter account posted that it was "better to start 3rd world war instead of letting Russia & assad commit #HolocaustAleppo."
Despite the controversy surrounding her account and accusations of child exploitation, Alabed will be honored by the Atlantic Council for her "use of social media to bring global attention to the plight of children in rebel-held areas of Syria."
But maybe the Atlantic Council's choice of nominees for its Freedom Awards shouldn't be so surprising. In 2016, the think tank chose to bestow the award on the Syrian Civil Defence, also known as the White Helmets – a controversial outfit which bills itself as a first-responders group in the Syrian war, but operates exclusively in militant-held areas and has been accused of links to terrorist groups, including Al Qaeda.
Little Bana will be accepting her award on behalf of the 500,000 Iraqi children co-honoree @madeleine killed – the precursor to the US invasion of Iraq that destabilized the region then spread catastropic war to Syria. https://t.co/E9RdkkNd5t

— Ali Abunimah (@AliAbunimah) June 20, 2018
Think your friends would be interested? Share this story!
Via RT. This piece was reprinted by RINF Alternative News with permission or license.