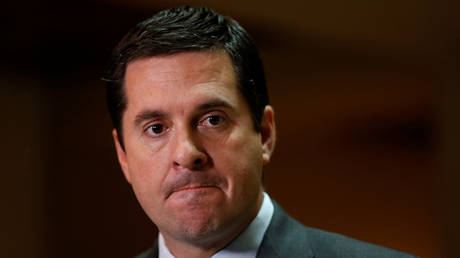 Rep. Devin Nunes has filed a $150 million lawsuit against McClatchy for derailing his probe into Clinton campaign corruption and 'Russian interference' with claims about prostitutes and cocaine, sparking extreme Twitter trolling.
The suit filed in a Virginian state court on Monday court alleges a McClatchy reporter conspired with Republican consultant Liz Mair, in order to impede Nunes' efforts to investigate "corruption by the Clinton campaign and alleged 'collusion' between the Trump campaign and Russia during the 2016 presidential election."
Mair is accused of conspiring with reporter MacKenzie Mays to spread misleading smears, including reports that Nunes (R-CA), a member of the House Intelligence Committee, "was involved with cocaine and underage prostitutes" at a fundraising event on a yacht.
A woman who worked for the winery (listed as a primary asset of Devin Nunes') sued after she said she was stranded on a yacht with its top investors who were using cocaine and underage sex workers. The cruise was auctioned off as part of a charity event. https://t.co/EQUgBXbgGM

— Mackenzie Mays (@MackenzieMays) May 23, 2018
Nunes says the report claimed it was unclear whether he was affiliated with the fundraiser, even though the winery organizing the event told McClatchy that he was not. The lawsuit accuses McClatchy of "character assassination," claiming it knew before publication that Nunes had no involvement with the yacht event. McClatchy, meanwhile, says it stands by the reporting.



Also on rt.com
Facebook, Twitter & Google to testify before Senate panel on censorship of conservatives




Nunes' complaint also accuses Mays of emphasizing the words 'woman', 'Devin', and 'cocaine' in her tweet sharing the yacht article, but it has been pointed out that while the words appear in bold in the version of the tweet included in the suit, they were not bolded in its original form. The bolding likely appeared, however, as a result of someone searching for those terms to find the tweet, as when Twitter users search for specific words, these words are highlighted in the search results.
In the wake of the lawsuit, social media users are delighting in trolling Nunes, with the hashtag 'YachtCocaineProstitutes' trending on Twitter via tens of thousands of tweets. Even Pornhub is getting in on the action.
Nunes filed a similar suit in March against Twitter and users, including the parody accounts @devincow and Devin Nunes' Mom, and Mays, saying Twitter failed to prevent harassment against him and was censoring conservative voices. His efforts resulted in the 'cow' account becoming more popular than Nunes' own.  



Also on rt.com
Republican Devin Nunes sues Twitter for censoring conservatives, alleges harassment campaign




Like this story? Share it with a friend!
Via RT. This piece was reprinted by RINF Alternative News with permission or license.