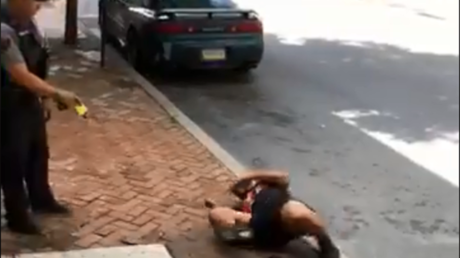 Disturbing footage of a police officer using a stun gun on an unarmed black man has gone viral. Concerned citizens took to Facebook to slam police for excessive use of force and giving "confusing" instructions to suspects.
Police in the city of Lancaster, Pennsylvania say they received a call on Thursday morning, claiming there was "a male with a bat." When they arrived at the scene they found Sean Williams, who officers claim "refused to comply" to their instructions. Later police admitted that no bat was found at the scene of the incident.
The footage captured by a bystander, shows a police officer telling an apparently-unarmed Williams to sit down on the curb and stretch his legs out in front of him and cross them at the ankle. He seems to misunderstand the instructions and stretches his legs out only partially and then moves them back under him. As he starts moving his legs towards the curb the officer uses a taser on him. Williams is seen writhing on the ground in pain.
Later in a statement released by Lancaster police, officers explained that Williams wanted to fight a group of three people and attempted to prevent the woman in the group from entering her apartment. The group said Williams "was known to them" and that he had been "exhibiting increasing erratic behavior" over the previous few days. Officers found that there was an outstanding warrant for Williams' arrest, with charges of Possession of a Controlled Substance (PCP) and Public Drunkenness. He was later released on a $5,000 bail.
Originally posted on Facebook, the video quickly went viral, attracting more than 1.4 million views and 36,000 shares in less than 16 hours.
Shocked viewers harshly criticized police actions, saying that the man was "no threat to anyone" and calling police actions "a crime."
A man who witnessed the whole incident told local media that Williams was confused by police orders. "He first put them straight and then she said cross your legs, so he tried to cross his legs, tased him in the back (sic)," Juan Almestica said.
People on social media echoed Almestica, saying that the instructions police gave to the man were truly "confusing" and "weird."
Police officers claim the instructions were meant to make sure the suspect was not going to flee. But the scope of the media fuss has reached the Lancaster mayor, who took to Facebook to explain that a probe into the Thursday incident i underway. "Like you, when I saw the video I was upset by it and it is of great concern to me. We take the use of force very seriously," Danene Sorace stressed in a statement.
READ MORE: Teen who died in jail after being tasered in groin – and other cases involving the infamous stun gun
A number of Human rights groups, including Amnesty International, have expressed concerns in recent decades about the excessive use of tasers by police in the US and have urged greater restraint and stricter rules regarding their use.
According to a Reuters investigation conducted back in 2017, more than 1,000 people in the US have died after being shocked with police tasers. Nearly all deaths took place since the 2000s when tasers became popular among police officers. 
Think your friends would be interested? Share this story!
Via RT. This piece was reprinted by RINF Alternative News with permission or license.