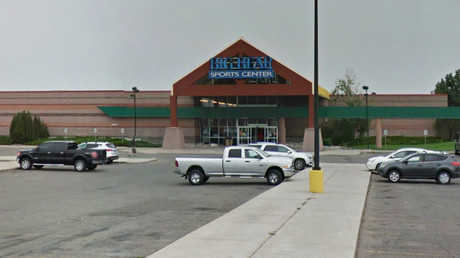 Police in Billings, Montana are responding to reports of a man who barricaded himself in a sports store. Officers have told the media that the intruder accessed weapons inside the building and exchanged fire with police.
However, Police Chief Rich St. John told the Billings Gazette that this is not an active shooter situation. He confirmed a male suspect is barricaded inside the sports center after driving his vehicle through the front door of the premises at around 3am local time. The store was closed at the time of the incident.
The bomb squad and hostage negotiations squad have been called to the scene.
Police say the suspect has access to a "significant amount of weapons," and the public is being warned to stay away from the area.
The suspect was allegedly trying to steal firearms from the store. Once inside, he apparently accessed the store's weapons and fired shots. At one point there was an exchange of gunfire between the suspect and police officers.
Rich said none of the officers were hurt but could not confirm if the suspect was hit. An armored police vehicle was struck during the shooting.
Earlier, the suspect entered a Walmart in the area but was chased off by employees, St. John said. Police are working with the store to confirm the man's identity.
MORE TO FOLLOW
Via RT. This piece was reprinted by RINF Alternative News with permission or license.