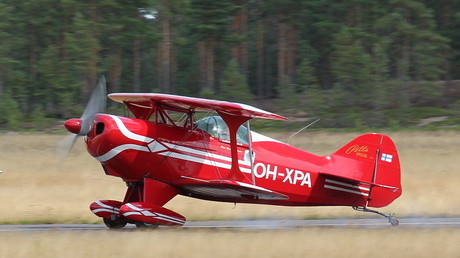 The moment that a plane's engine cuts out, sending the aircraft plummeting towards the ground, has been captured in a dramatic video that's tense until the very final second.
Pilot Chad Barber found himself facing death during an aerobatic flight when his engine suddenly stopped. He had been practicing a number of loops and spins over Coral Springs, Florida when the propeller stopped working.
The video captures the moment the roar of the plane's engine cuts out, and shows the plane's nail-biting descent as Barber attempts to restart the engine. "Survival was the first thing. I focused on surviving," he told told WSVN. "I did a little quick prayer in the 45 seconds that it had all happened."
"I was practicing some aerobatics. I had a sequence set I was performing, and I was just following that sequence," Barber said. "It happened at 2,500 feet when I lost fuel."
The close call happened in May, but Barber later decided to release the video to the media in order to show other pilots the importance of remaining calm in an emergency.
"While pushing over from a vertical climb with seven gallons of fuel in the tank, the fuel flop tube was not able to draw enough fuel to maintain combustion and caused the engine to stop." Barber explained.
At the last minute, the engine comes back to life, and Barber cheers with relief. "A successful re-start occurred approximately 45 seconds after engine failure with a loss of about 2,400 feet." he said.
Like this story? Share it with a friend!
Via RT. This piece was reprinted by RINF Alternative News with permission or license.