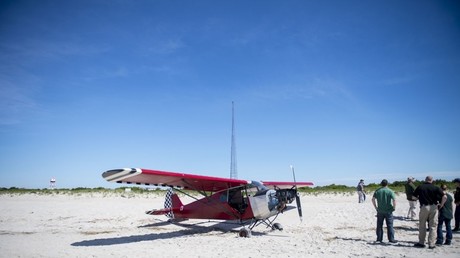 Authorities are searching for a mysterious pilot who took a plane for a dangerous joyride before abandoning it on the grounds of a Coast Guard Training Center and disappearing.
Witnesses saw the small red Piper PA-12 plane flying erratically and dangerously close to the ground before it illegally landed on a restricted beach at the Coast Guard facility in Cape May, New Jersey on Sunday.
The Cape May County Police Department, the Coast Guard's fire department, police department and investigative services, and even the Sheriff Department's K-9 Unit were called the scene, the training center said in a statement.

When emergency responders saw the single-engine plane was empty, they began searching the Sewell Point facility. The barracks were placed on lockdown as a security measure.
The search ended Monday morning after it was confirmed the pilot wasn't hiding near the training center.
"After working with Cape May County Sheriff's Department K-9 Unit, which indicated the pilot's scent lead away from the training center, as well as physical tracks from the plane and security camera footage showing the pilot heading away from the training center itself, the command decided to resume standard security measures," the Coast Guard center's Chief Warrant Officer John Edwards said in a statement.
The plane was taken from the Paramount Air Service in Cape May County, and the company said in a statement it "has not knowledge of the pilot's motivation for the incident or his whereabouts after the incident," Cape May County Herald reports.
Local media is reporting the plane company's owner Barbara Tomalino later said the rogue pilot is her stepson. He remains at large.
Like this story? Share it with a friend!
Via RT. This piece was reprinted by RINF Alternative News with permission or license.