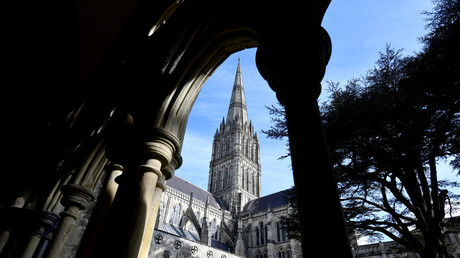 RT's interview with the two Russian men accused of being behind the Skripal poisoning has revealed a Twitter widely cynical about both their innocence, and Salisbury's claims to be an international tourist hotspot.
Whatever your views on the Skripal poisoning and the guilt or innocence of suspects Alexander Petrov and Ruslan Boshirov, few could argue it has been a bad day for the self-esteem of Salisbury and its much-admired cathedral. The majority on social media clearly think the town is awful and certainly not worth a 3,000-mile round trip.
But with the optimism of knowing God is on its side, and the 'no publicity is bad publicity' mantra ringing in its ears, Salisbury Cathedral itself is not wasting its new-found notoriety. It sent out a promotional tweet detailing the mighty 123-meter erection which apparently attracted Petrov and Boshirov in the first place.
Replies underneath the official tweet inquire as to whether the cathedral cafe serves vodka, or whether there is a Russian language audio guide.
Well after the revelations, people soon began to notice that Petrov and Boshirov weren't the first celebrities to take an interest in Salisbury after all. One of the world's biggest rappers, Jay Z, went there once as well! Where's your cynicism now internet!? Seriously, is Jay Z now a suspect in this Novichok thing?
It's been a common yet much-overlooked theme among those who refuse to believe the pleas of innocence coming from Moscow; surely only highly-trained agents could successfully navigate Britain's antiquated railway system two days in a row.
Petrov and Boshirov said they headed out to Salisbury in order to visit Stonehenge and Old Sarum, which is another ancient tourist site nearby, but were prevented from going by recent snowfall. This was enough material for endless online mirth about Russians and snow (acceptable racism?)
The following tweets aren't as funny in the conventional sense, but they do prove that the weather on the day had closed Old Sarum, and there were warnings about road conditions.  LOL!
This lady makes a very interesting point.  
One resource we can always rely upon to give us a good, honest review may support Boshirov's story.
And finally, Bassman Bob looks on the bright side.
Like this story? Share it with a friend!
Via RT. This piece was reprinted by RINF Alternative News with permission or license.