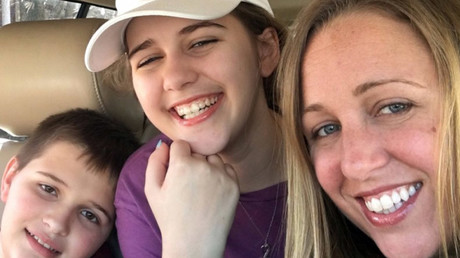 A Pennsylvania mother inadvertently recorded her own death at the hands of her boyfriend who shot her while her young children were in the house. The suspect then attempted suicide, shooting himself in the face.
On May 2, Wesley Webb was fighting with her boyfriend, Keith Smith, in their Pennsylvania home when she decided to start recording their argument on her phone. Things escalated quickly when Webb, 40, told Smith, 43, that she and her two children wanted to leave.
In the audio recording, which is now in possession of police, Smith can be heard yelling, "You want to record it now, b***?"according to the Times of Chester County.
Smith, authorities said, pulled out a single-shot, 12-gauge shotgun and fired on Webb, striking her in the chest, as she sat on the couch.
Then a gun is heard going off while Smith shouting, "F**k you! How's that? That's where we just went."
After killing Webb, Smith attempted suicide by shooting himself in the face, but he survived.
"The defendant did not hesitate to kill his girlfriend. But he flinched when it came to killing himself," District Attorney Tom Hogan said in a statement, calling the incident "a savage, selfish, and cowardly murder."
At the time of the murder, three children, all under 14 years old, were on the second floor of the house. As they heard the gunshots, they went down and called 911 after witnessing the bloody scene. The audio recording did not stop until the police arrived.
"Now, the victim is dead, the defendant is alive, and three kids have been badly traumatized," Hogan said.
The three minors in the house at the time were Smith's son and Webb's daughter and son.
Smith was hospitalized in stable condition and is going to be transported to Chester County Prison upon his medical clearance. On Wednesday, he was charged with first-degree murder, third-degree murder, and endangering the welfare of children.
The recording Webb left behind will be admissible during Smith's trial, which is now allowed by the state's wiretap law which was amended in 2012.
"Until 2012 in Pennsylvania, a victim's recording of her own murder would have been inadmissible under the Pennsylvania Wiretap Act. This law was changed in 2012, fixing a glaring omission. But that is slight solace for the children and family of the victim in this case," Hogan said, according to the Times of Chester County.
Webb's heinous killing left the community in shock, as it was its first homicide in decades.
"We are a safe community, making this crime jarring for our township. However, our police, the Chester County Detectives, and neighboring jurisdictions did an outstanding job of responding rapidly to a chaotic scene and conducting a thorough investigation," Schuylkill Township Police Chief James Fetterman said.
Webb's sister has started a GoFundMe campaign to raise money for the two children of whom she will now be taking care.
"We need to purchase things like additional beds, furniture, clothing, tuition to continue Madison's dance classes, uniforms and equipment for sports, etc.," the crowdfunding page said.
In five days, over 300 people expressed their support, donating $30,214.
Via RT. This piece was reprinted by RINF Alternative News with permission or license.