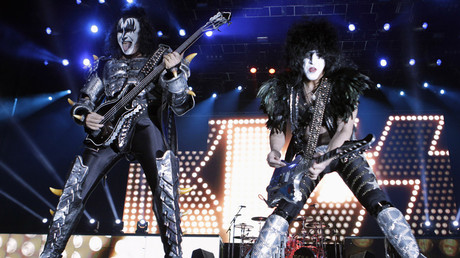 Despite once claiming "there's only one nation and that's KISS nation," the iconic rock band has been pledging allegiance to the US mid-concert and speaking out against NFL player Colin Kaepernick's refusal to stand for the national anthem.
While the band was on stage in Worcester, Massachusetts, KISS singer Paul Stanley took aim at the recent uproar over the sports star's protest of police brutality in the US.
"You should remember: patriotism is always cool. Loving your country is always cool. Standing up, respecting and honoring our military is always cool," he declared, while sporting a guitar bearing an American flag.
The band then led the crowd in a recital of the Pledge of Allegiance before blasting out its own rock version of The Star Spangled Banner.
Currently on its "Freedom to Rock" tour, KISS has been showing blanket support for the US military by offering discounted tickets to veterans and making a $150,000 donation to the "Hiring our heroes" initiative, which helps veterans find employment.
San Francisco 49ers quarterback Colin Kaepernick, a US national, began a wave of controversy by kneeling during the anthem, including at a "Salute to the Military" game, in order to call attention to police brutality against minorities in the US.
Several sports stars from both football and soccer have since joined Kaepernick in practicing the act of defiance, prompting mixed reactions, with some people openly supporting the athletes' protest and others declaring their behavior "unpatriotic."
President Obama has weighed in on the controversy, defending the player's "constitutional right to make a statement," while pointing out "if nothing else, he's generated more conversation about issues that have to be talked about."
Meanwhile, Republican presidential nominee Donald Trump has described Kaepernick's protest as a "terrible thing," while suggesting that the football player "should find a country that works better for him."
KISS's stance on the issue mirrors that of Trump, who original member Gene Simmons supports in the upcoming election. "He is the truest political animal I've ever seen onstage," Simmons told Rolling Stone, saying that Trump is "good for the political system."
Via RT. This piece was reprinted by RINF Alternative News with permission or license.