Journalists were present, so the silence isn't due to lack of access. And in any case it was live streamed on the UNTV channel, and remains available on Youtube for keen observers to watch.
More likely, the silence is due to the irrefutable documentation presented on the faux-rescue group's involvement in criminal activities, which include organ theft, working with terrorists — including as snipers — staging fake rescues, thieving from civilians, and other non-rescuer behaviour.
On the panel was one of corporate media's favourite targets to smear, British journalist Vanessa Beeley, who gave a fact-based lecture on her years of research into the founding, funding and nefarious activities of the White Helmets, research which includes numerous visits to White Helmets centers, countless testimonies from Syrian civilians, and even an interview with a White Helmets leader in Dara'a al-Balad, Syria.
Maxim Grigoriev, the director of the Foundation for the Study of Democracy (a member of the UN's Global Counter-Terrorism Research Network) spoke at length, detailing some of the over 100 eyewitnesses his foundation has conducted interviews with.
These include over 40 White Helmets members, 15 former terrorists, 50 people from areas where terrorists and WH operated, with another over 500 interviewed by survey in Aleppo and Daraa.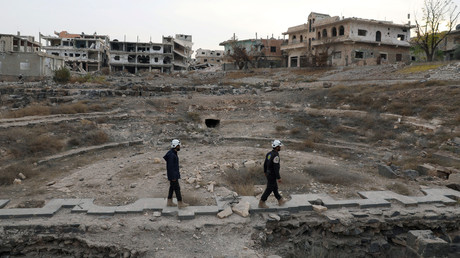 Among testimonies presented by Grigoriev were numerous accounts of the White Helmets' involvement in organ theft.
A head of nursing in…