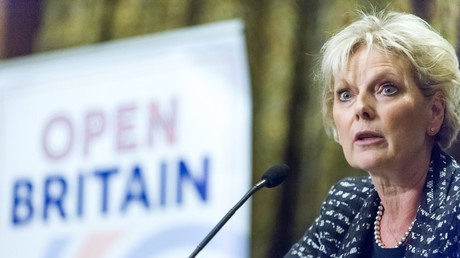 Tory MP Anna Soubry has told MPs that she knows of at least one Conservative colleague who will not vote with their conscience on the Brexit bill due to fears of violence against themselves, their family, or their staff.
The biggest moment in Brexit kicked off on Tuesday afternoon with a debate, followed by a vote on the European Union (Withdrawal) Bill. The amendment could effectively hand control of the Brexit process to parliament if it goes ahead. MPs would then be permitted to vote on the final Brexit deal, igniting fear in Brexiteer MPs, as parliament could also halt the Brexit process entirely.
Raising a point of order in the House of Commons, Soubry – who is a Remainer and has herself suffered abuse in the lead-up to Tuesday's Brexit vote – told the House: "To my knowledge at least one honourable member on these benches will today and tomorrow not vote in accordance with their conscience because of threats to their personal safety, to members of their parliamentary staff and members of their family."
Soubry then asked Speaker of the House John Bercow if he would condemn any abuse dished out to MPs throughout the course of the Brexit bill's vote. Bercow said that no member of parliament should be threatened because over their views or vote on the Brexit bill.
"I would hope and am confident that today's debates and tomorrow's debates will take place in an atmosphere of mutual respect in which opinions sincerely held will be robustly articulated," he said.
READ MORE: 'Great Britain or Great Betrayal': UK tabloid headlines attack MPs hours before critical Brexit vote
"No one in this place, under any circumstances, should be under threat." Commons Leader Andrea Leadsom echoed Bercow, adding that "any threats of violence and intimidation are utterly unacceptable to the Government."
The MP's move of solidarity comes on the same day that Lancashire resident Jack Renshaw, 23, admitted in court to plotting to kill Labour MP Rosie Cooper with a machete, and two years after the murder of Remainer Labour MP Jo Cox.
Cox was shot and stabbed multiple times in West Yorkshire in 2016. Witnesses testified during her murderer's trail that, during the attack, killer Thomas Alexander Mair cried out "This is for Britain", "keep Britain independent", and "Put Britain first".
Like this story? Share it with a friend!
Via RT. This piece was reprinted by RINF Alternative News with permission or license.