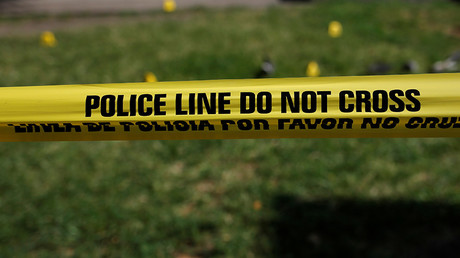 A suspect is on the run from police after reportedly shooting two people dead in Oklahoma. He is armed with an AK-47 and allegedly shot two officers and a woman earlier. He has also reportedly stolen multiple vehicles.
The suspect has been identified as 38-year-old Michael Vance.
Two of Vance's family members were found dead, the Oklahoma County Sheriff's Office has confirmed to News 9. A male was found dead in the yard of a house, while a female was found deceased inside the home.
Vance had also reportedly been making threats towards other family members. 
Breaking News: Officials say Deceased maybe related to Michael Vance, he was making threats against other family members, that fam is safe

— Patty Santos (@KOCOPATTY) October 24, 2016
Previous reports stated that Vance had also kidnapped a woman, although the Sheriff's Office has now confirmed this is not the case.
Vance was originally wanted by police for the shooting of two officers near Wellston, Oklahoma, on Sunday night, according to authorities cited by local outlet News 9.
The officers were shot when Vance opened fire with an AK-47 after arriving at the scene in response to a call about gunfire, Lincoln County Sheriff Charlie Dougherty said, as cited by local news outlet KWTV.
One officer was shot in the foot, while the other was hit in the leg.
Police returned fire, and say Vance was shot at least twice in the torso.
Vance then stole their vehicle and drove to a nearby mobile home park, where he carjacked a woman, shooting and injuring her in the process. The victim refused medical treatment at the scene.
The suspect took off in the woman's vehicle, a white Lincoln Town Car with a blue top.
However, authorities now believe that Vance has stolen another vehicle, a silver 2008 Hyundai, and may be headed north, the Lincoln County E911 Facebook page said in an update.
One other person has been detained by officers, though it is unclear how the person is connected with the shootings.
Vance was recently released from Lincoln County jail after being imprisoned for sexually assaulting a child, according to Dougherty. He is reportedly due to address those charges in court in two weeks.
Records show Vance has previously been arrested several times on charges including obtaining cash or merchandise with fraudulent checks, felony larceny of an automobile, unauthorized use of a motor vehicle, and assault and battery.
Wellston, located in central Oklahoma, is a small town of about 825 people about 35 miles northeast of Oklahoma City and 70 miles south of Tulsa.
DETAILS TO FOLLOW
Via RT. This piece was reprinted by RINF Alternative News with permission or license.