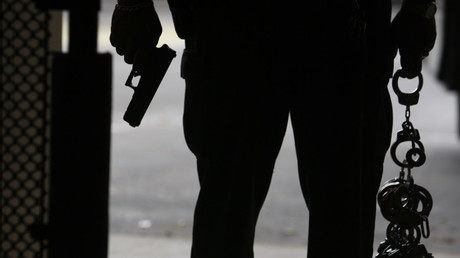 Shocking surveillance footage shows an off-duty California officer draw his firearm at a man who he thought was stealing a $1.19 pack of Mentos mints from a gas station store.
The man, identified as Jose Arreola, had purchased his mints before the off-duty officer walked into the Orange County mini-mart and stood behind him. Arreola, who has short hair and a long goatee, then slipped the candy into his pocket only to be confronted by the man, pronouncing himself as a police officer.
"Give that back," he exclaims before taking a pistol out of his jacket pocket. A stunned Arreola puts the mints on the counter and explains he has paid for them.
"Get your cash and leave," the officer warns despite pleas of innocence from Arreola. As Arreola complies the cop then turns to the shop assistant to ask if the mints had been paid for, to which the cashier responds yes.
"Are you sure?" the officer clarifies before apologising to Arreola.
Arreola told The Orange County Register he felt more angry than fearful during the incident, however, he was forced to face the prospect of losing his life over a packet of mints.
"At the same time it scared me because I thought this guy can shoot me…I thought my wife could be a widow after tonight."
Describing the officer he said, "he was so arrogant…because he holds a badge." The alarming encounter has left Arreola shaken and has damaged his trust in law enforcement. "We just feel like we can't trust cops no more."
Buena Park Police Department confirmed the officer involved was one of their employees and said an administrative investigation had begun. It also stated that a formal complaint had been filed by Arreola and there was potential litigation pending against the city.
Buena Park Police Chief Corey Sianez admitted that the footage showed his officer drawing his gun but claimed he was not pointing it. "I want you to know that after I watched the video I found it to be disturbing, as I'm sure it was to you," Sianez said, adding that he was unable to discuss details of the investigation.
Like this story? Share it with a friend!
Via RT. This piece was reprinted by RINF Alternative News with permission or license.