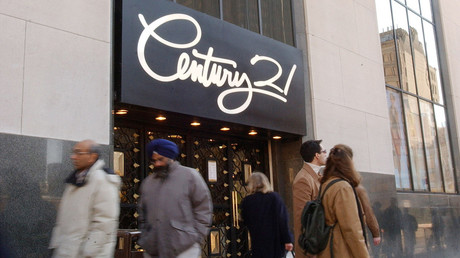 Shocking footage of a department store's security guard tackling and punching a teen who was suspected of shoplifting at the lower Manhattan, New York premises has led to the employee being charged with assault.
Video of the incident, which happened Friday night, shows the teen being pinned to the ground by three Century 21 security officers as the youth shouts out, "What are you doing, I'm 18, I can't breathe." One of the security personnel appears to strike the teen with his fist.
Think your friends would be interested? Share this story!
In a longer video of the incident, also captured by Brian Fraser and posted on a friend's Twitter account, security can be heard telling onlookers to move away for their own safety as a female friend threatens to call police.
"What are you doing to this black man? I'm calling the cops," she shouts as the alleged thief, identified as Victor Roberson, is dragged along the sidewalk.
Roberson faces charges of petit larceny and criminal possession of stolen property, for allegedly trying to steal two pairs of Prada shoes worth about $860. Before his arrest, he was taken by paramedics to New York Presbyterian Hospital for back and neck pain, according to NYPD, as reported by AM New York.
READ MORE: 'Clear violation of policy': Footage of Miami cop brutally kicking man in head goes viral (VIDEO)
Two hours later, following a review of Fraser's video, officers arrested one of the security guards, Acosta Wilson. They charged him with assault after determining that "excessive force" was used by the 24-year old, the NYPD said.
In a statement to NBC New York, Century 21's Executive Director of Stores Larry Mentzer said the store is taking the situation "very seriously" and the security guard in question had been suspended pending an investigation. "We will continue to cooperate fully with law enforcement," he added.
RT.com has reached out to Century 21 for further comment.
Think your friends would be interested? Share this story!
Via RT. This piece was reprinted by RINF Alternative News with permission or license.