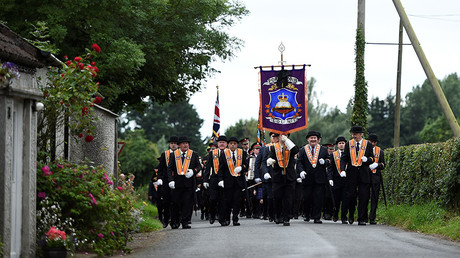 Northern Ireland's Orange Order has instructed its members not to use "RIP" to commemorate deaths – a move that has been met with incredulity online.
The bizarre diktat was issued in a special Reformation anniversary edition of the Orange Standard, a magazine for members of the Orange Order.
READ MORE: Orange Order's Nazi-style costumes to be investigated by Scottish police
Speaking on BBC's Talkback program, Wallace Thompson, secretary of Evangelical Protestants Northern Ireland, said: "Observing social media, we have noticed that the letters RIP are used a lot by Protestants, and by some evangelical Protestants."
He added: "From a Protestant point of view, we believe, when death comes, a person either goes to be with Christ for all eternity, or into hell. So from a Protestant point of view to use the term is not theological or correct."
The magazine piece points out that RIP is an abbreviation of "rest in peace," or "requiescat in pace" in Latin.
"[These terms] have long been used by the Roman Catholic Church and can be frequently seen, for example, in death notices and gravestones," the article reads, before adding that the souls of those who refuse the offer of salvation will be "lost in hell forever."
"This is what the Bible teaches, and there is no Biblical warrant for praying for the dead or for wishing that their soul might 'rest in peace,'" the piece adds.
Speaking to the Impartial Reporter, County Grand Master of Fermanagh's Grand Orange Lodge, Stuart Brooker, said the article "clearly explains why Protestants and members of the Orange Institution should not use the term 'RIP'.
"For guidance on any matters like these we should refer to what the Bible teaches."
Reaction to the comments have been typically scathing online.
Via RT. This piece was reprinted by RINF Alternative News with permission or license.