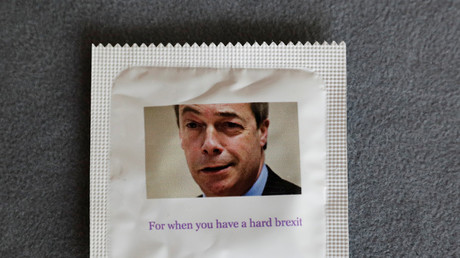 Nigel Farage has been known to have his fingers in many pies, but the former leader of Britain's UK Independence Party is now linked with yet another headline-grabbing venture – branded condoms ensuring a 'hard Brexit.'
While his campaign team say the former politician has nothing to do with the contraceptives bearing his image, they were on sale at this year's UKIP conference in Birmingham on Friday.
The condoms feature Farage's face above the phrase: "For when you have a hard Brexit." They sell for £1 each, or four for £2, Sebastian Cheek, the 20-year-old student who designed the packaging told Reuters. "At UKIP we like making a deal, so long as it's a good deal."
READ MORE: Farage considers running for mayor of London; would you vote for him? (POLL)
Farage is still a UKIP member but has stepped out of the political limelight since playing a major role in the campaign for a 'leave' vote in the 2016 Brexit referendum.
Cheek said he was aiming to sell 200 of the condoms to raise funds for the party's youth wing. By midday on the first day of the two-day conference, almost half the stock of the Farage condoms were gone.
"It is a reputable condom … they're going very quickly," said Cheek.
Like this story? Share it with a friend!
Via RT. This piece was reprinted by RINF Alternative News with permission or license.