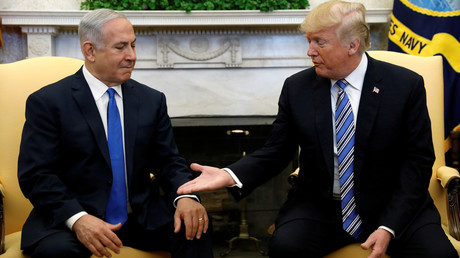 It appears Israeli Prime Minister Benjamin Netanyahu has mastered the fine art of flattery. He was certainly not short of praise for US President Donald Trump during their recent meeting in the White House.
In his perhaps overly-complimentary remarks on Monday, Netanyahu said Trump will be remembered "through the ages" for making a decision that "others talked about" but never followed through on.
Referencing Trump's decision to move the American embassy from Tel Aviv to Jerusalem — and to formally recognize the Holy City as Israel's capital —  Netanyahu compared Trump to some of the most notable figures in Israel's history: King Cyrus of Persia, Lord Arthur James Balfour and former President Harry Truman.
King Cyrus freed the Jews from exile in Babylon 2,500 years ago. Balfour, the former British foreign secretary, declared a "national home for the Jewish people" in 1917, and Truman was the first world leader to recognize the Jewish state — 11 minutes after it was declared in 1948.
The comments will surely please Trump, who has made headlines for his tendency to exaggerate, as well as his hyperbolic statements about his own significance. Last year, for example, Trump claimed that during his visit to China he was treated "better than anybody's ever been treated in the history of China."
After lavishing praise on Trump, Netanyahu swiftly moved on to more important matters: Iran. Netanyahu is expected to use his visit to Washington to push Trump to renegotiate the deal made by former President Barack Obama's administration to limit Iran's nuclear ambitions.
Echoing comments Trump previously made about the Iran deal, Netanyahu said Tehran came out of that deal "emboldened" and "enriched."
"Iran must be stopped. That is our common challenge," he told Trump.
Netanyahu only made a passing mention of finding peace with the Palestinians — something Trump mentioned more than once.
"If we could do peace between Israel and the Palestinians, that would be a great thing for the world," Trump said. "It would be a great thing for this country and for everybody."
The White House has said it is finalizing a peace plan for the Middle East, but while Trump himself believes there is a "very good chance" of achieving peace, the decision to move the US embassy to Jerusalem has already prompted the  Palestinians to write Trump off as a fair broker in negotiations.
The man in charge of the White House's peace plan effort, Jared Kushner, the president's son-in-law and senior adviser, recently had his security clearance downgraded — which may complicate matters further.
During the meeting with Netanyahu, Trump also floated the possibility that he would travel to Jerusalem for the opening of the new American embassy in May.
Think your friends would be interested? Share this story!
Via RT. This piece was reprinted by RINF Alternative News with permission or license.