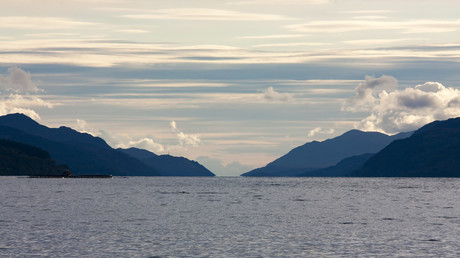 Footage captured by a schoolgirl visiting Loch Ness has prompted fresh claims of a definitive sighting of the mythical 'Nessie' monster which has been long-rumored – but never proven – to live in the lake.
Laria Annand, 8, was reportedly visiting the area with her grandmother, Marie, when they noticed sunlight bouncing off of a strange long object which was moving in the water.
There were no boats or objects visible in the water to cause the small waves so the pair quickly pulled out a phone to capture some pictures of what could be a rare sighting of 'Nessie'. The young girl also managed to capture footage of the mysterious creature in action.
READ MORE: Mysterious new footage of 'Loch Ness Monster' breathes life into 'Nessie' legend
"I had to do a double take because there was just nothing to explain it," said Marie. "I took a few pictures and then my granddaughter asked if she could take a picture. I didn't realise at the time but that's when she shot the video. It was weird. Really strange. I can't explain it so the only thing I can think is we have seen the Loch Ness Monster".
The legend of the Loch Ness Monster has puzzled people for generations, however a group of scientists are hoping to finally uncover what really lies in the waters of the Scottish lake by using DNA sampling techniques.
Professor Neil Gemmell, a scientist from New Zealand, will lead the experiment which consists of extracting genetic code from the lake's water over a two-week period to determine which creatures reside beneath.
Think your friends would be interested? Share this story!
Via RT. This piece was reprinted by RINF Alternative News with permission or license.