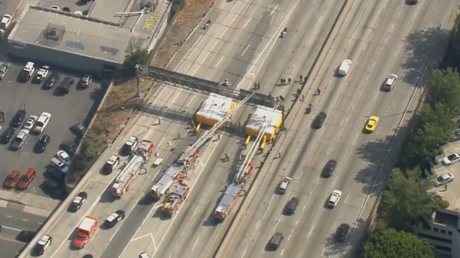 An aspiring rapper has been arrested half-naked in Los Angeles, after he climbed a freeway sign to perform a series of publicity stunts for his music video, bringing morning rush hour traffic to a halt.
At about 8:00am Wednesday morning, a man wearing a pair of black boxers and gym shoes scaled the massive 110 Freeway sign overpass in downtown Los Angeles.
After his ascent to the heights above one of the main road arteries in the city, the aspiring rapper, Alexander Dunn, began shouting: "My name is Dephree and I love God."
The man also unfolded massive banners reading "Fight pollution, not each other" and "Give a hoot, don't pollute," while mocking people below with freestyle rapping.
Authorities rushed to the scene to get the 29-year-old off the freeway sign, halting traffic in the southbound direction. As traffic built up, the rapper continued to taunt officers, while vaping and shouting through a bullhorn.
After roughly two hours, Dunn finally had enough of his publicity stunt. With a backflip, he landed on a massive inflatable pad placed by the Los Angeles Fire Department. On the ground he was immediately arrested on charges of delaying a police officer, trespassing on state property and failing to obey a regulatory sign.
According to the LA Times, Dunn's entire performance was recorded by his team who are planning to use the footage in an upcoming music video.
If you like this story, share it with a friend!
Via RT. This piece was reprinted by RINF Alternative News with permission or license.