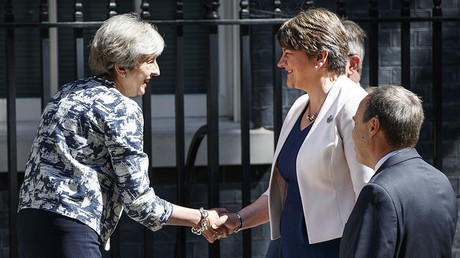 The Tories are facing a barrage of social media criticism for blocking a modest pay rise for emergency service workers but somehow finding £1 billion to hand over to the Democratic Unionist Party (DUP) to keep their enfeebled minority government in power.
Labour leader Jeremy Corbyn tabled an amendment on Wednesday calling for an end to the public sector pay cap and for more police and firefighters to be recruited in the wake of the Grenfell Tower disaster.
Prime Minister Theresa May was able to scrape together enough support to vote down the amendment 323 votes to 309 votes, giving her a slender majority of just 14 MPs.
It comes after May finally struck a deal to get the backing of the DUP after promising to pour £1 billion (US$1.3 billion) into the coffers of Northern Ireland's devolved executive.
Tories cheered as the tally of the vote was read out in Parliament.
However, many are now taking to Twitter to question how the Conservatives found money to give to the DUP but could not agree to a pay rise for public sector workers.
Corbyn tweeted: "Monday the Conservatives spent £1 billion to cling onto power. Yesterday, they voted against nurses getting paid a penny extra #NastyParty."
Nurse Sharon Gathercole tweeted: "The next time there's a horrible tragedy or a terrible disaster and you're watching that wretch of a UK prime minister wringing her hands on TV in fake sincerity and commending our 'amazing emergency services for their bravery and dedication,' remember this.
"This week she bought the support of the DUP in a rotten cash for votes deal with £1 billion+ in OUR tax money. And the first thing they did together in parliament is to vote to freeze/cap the pay of your policemen, firemen, paramedics and NHS staff for the 8th year running."
Another Twitter user suggested all Tory and DUP MPs should be banned from using public services after the "despicable vote."
Tories spend £1.5bn of my tax money to undemocratically fix vote that stops me getting fair pay. Ok then. #publicsectorpay

— Green Lacuna (@greenlacuna) June 28, 2017
At what point do Tory voters feel shame? When their MPs are cheering and laughing at NHS, fire and police wage 1% pay cap? #publicsectorpay

— Phil O'Keefé (@Phil_O_Keefe) June 28, 2017
Another Twitter user asked: "Tories, enlighten me. Why do your MPs deserve an 11 percent pay rise when the rest of the public sector get actual pay cuts?"
Via RT. This piece was reprinted by RINF Alternative News with permission or license.