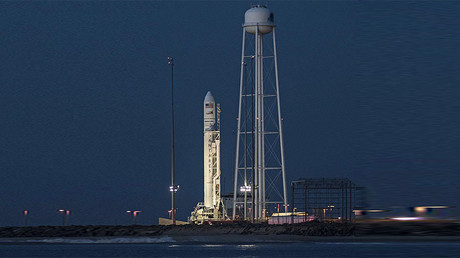 Sunday marks the day that humanity takes one step closer to the science-fiction realm with space lasers. An American aerospace firm is aiming to create 200 megabits per second (Mbps) connections in space using satellites equipped with lasers.
If successful, this new tech could pave the way for networks of satellite-connected devices to send data, which will be useful for military, tech, and meteorological agencies, to and from space via laser connections. The launch of the new satellites is scheduled for 7:14am ET on Sunday from Wallops Flight Facility in Virginia.
The company, Orbital ATK, will send its Cygnus spacecraft, complete with NanoRacks CubeSats satellites, to the International Space Station. NASA is hoping that the mission will highlight the importance of small sensor spacecraft to the future of space exploration.
The twin satellites will propel themselves using water, while using cameras, beacons, and laser rangefinders to adjust the relative position measurements between the two satellites.
NASA believes that the satellites could lead to "significantly enhanced communication speeds between space and Earth and a better understanding of laser communication between small satellites in low-Earth orbit."
"Capabilities in proximity operations enable multiple small spacecraft to operate cooperatively during science or exploration missions, approach another spacecraft or object for in-space observation or servicing, or connect small spacecraft together to form larger systems or networks in space," the space agency also said.
The launch was initially scheduled to take place on Saturday but was "scrubbed" after an aircraft was detected in the vicinity of the launch pad. It will now take place on Sunday.
Via RT. This piece was reprinted by RINF Alternative News with permission or license.