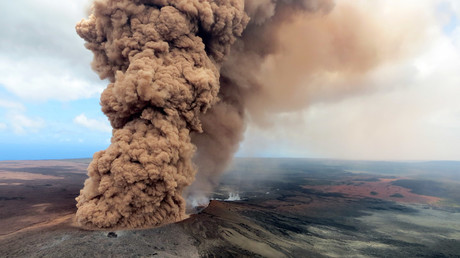 NASA has released satellite images showing massive sulfur dioxide plumes released by Hawaii's Kilauea volcano, which has triggered a fresh evacuation order after erupting for five days straight.
Around 1,700 people have been evacuated and dozens of buildings, including 26 homes, have been destroyed since the volcano started erupting on Thursday.
On Tuesday, authorities issued a cellphone alert ordering the remaining residents of Lanipuna Gardens to immediately evacuate. The neighborhood is located to the east of Leilani Estates, where many homes have been already devoured by lava.
The new evacuation order comes after the volcano spewed two new vents, with Hawaii County Acting Mayor Wil Okabe saying that they brought about new toxic fumes that pose a health risk. Although the neighborhood was placed under a mandatory evacuation order last week, not all residents have left the area.
There have also been a number of powerful earthquakes and authorities are now contemplating widening the evacuation zone as Kilauea continues to spout rivers of lava and belch noxious gas.
Sulfur dioxide can cause coughing and a burning sensation in the throat, and it can be fatal in high concentrations. In warning people to evacuate, Hawaii's Civil Defense Agency said that there are deadly levels of the gas in the air and emergency responders would not be able to help anyone affected.
NASA has released satellite images showing huge columns of gas reaching out from the eruption areas. The images, which were captured by advanced instruments onboard NASA's Terra satellite, reveal newly created fissures on Kilauea.
Kilauea is the youngest and southeastern-most volcano on the island of Hawaii. It is one of the world's most active volcanoes and has been in continuous eruption since 1983. Hawaii Governor David Ige has told the White House and the Federal Emergency Management Authority (FEMA) that the state will need help dealing with the volcano.
Like this story? Share it with a friend!
Via RT. This piece was reprinted by RINF Alternative News with permission or license.