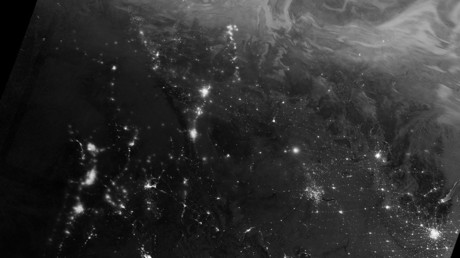 A burst of particles from the Sun hit the Earth's magnetic field soon after the winter solstice, igniting a spectacular Aurora Borealis display over northern Canada – all of which was caught by NASA.
On December 22, lucky spectators on the ground photographed the dazzling phenomenon from below, while NASA's infrared satellite captured it from the above.
READ MORE: Ancient tomb's awesome astrological light show draws crowds (PHOTOS)
The latter had help from the Visible Infrared Radiometer Suite's (VIIRS) 'day-night band' (DNB), which captured the northern lights in all their glory as they stretched across British Columbia, Alberta, Saskatchewan, Manitoba, Nunavut, and the Northwest Territories.
The DNB is able to detect light signals "such as auroras, airglow, gas flares, and reflected moonlight" and use them to create images such as the one above that shows the lights as they stir in the night sky, says NASA.
"The sensor detected the visible light emissions as energetic particles rained down from Earth's magnetosphere and into the gases of the upper atmosphere," NASA explained.
READ MORE: Iceland turns off city lights for spectacular Northern Lights show (PHOTOS, VIDEOS)
The Northern Lights is a renowned natural phenomenon that is typically witnessed in the Subarctic region, but can at times be seen further south in the northern hemisphere when weather conditions are ideal.
Via RT. This piece was reprinted by RINF Alternative News with permission or license.