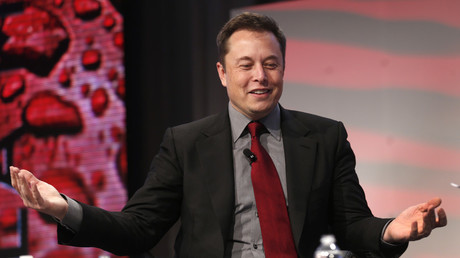 Tesla CEO Elon Musk has vowed to start a candy company, in what appears to be a bizarre trolling response to comments made by fellow billionaire Warren Buffett.
Buffett was responding to criticism Musk made earlier this week regarding one of his core investment principles –the moat– meaning the competitive advantage of a company. Musk dismissed the strategy as "lame" suggesting that pace of innovation was more important.
READ MORE: 'Cyber is uncharted territory': Warren Buffett warns industry will get worse, not better
The CEO of Berkshire Hathaway took the opportunity to address the critique at his conglomerate's annual meeting, dubbed 'Woodstock for Capitalists,' with a provocative message for the SpaceX entrepreneur

"Elon may turn things upside down in some areas. I don't think he'd want to take us on in candy," he quipped. Berkshire Hathaway has owned See's Candy since 1972 and has made the chocolate and candy manufacturer a huge success.
Never one to shy away from some online trolling, Musk was quick with a comeback. Starting by simply sharing a YouTube link to a Trolls movie clip of Justin Timberlake's song 'Can't stop the feeling,' Musk followed it up with a killer tweet.
I'm starting a candy company & it's going to be amazing

— Elon Musk (@elonmusk) May 5, 2018
I am super super serious

— Elon Musk (@elonmusk) May 5, 2018
"I'm starting a candy company & it's going to be amazing" Musk wrote, confirming in a second tweet that he was "super, super serious."
The tweets garnered some quick-witted reaction of their own, as excited followers imagined a world where Elon Musk created candy.
READ MORE: 'Mars is round': Flat Earthers forced to spell things out to Elon Musk
Think your friends would be interested? Share this story!
Via RT. This piece was reprinted by RINF Alternative News with permission or license.