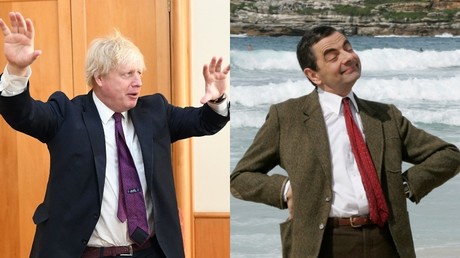 Boris Johnson's burqa comments have split the British population down the middle, with condemnation and support being handed out in equal measure. Now an imam, a rabbi and actor Rowan Atkinson have had their say on the matter.
Atkinson, best known for his portrayal of the bumbling 'Mr Bean' and the cunning 'Blackadder,' weighed in on the debate by writing a letter to the Times saying: "All jokes about religion cause offence, so it's pointless apologizing for them."
"You should really only apologize for a bad joke. On that basis, no apology is required."
Adding: "As a lifelong beneficiary of the freedom to make jokes about religion, I do think that Boris Johnson's joke about wearers of the burka resembling letterboxes is a pretty good one."
The former foreign secretary sparked a furore when he likened niqab and burqa-wearing Muslim women to 'letterboxes' and compared them to 'bank-robbers.'
Atkinson's comments were backed up from an unlikely source. Taj Hargey, imam at Oxford Islamic Congregation said that he "should not apologise for telling the truth."
In a letter, also for the Times, he wrote that the burqa and niqab had no legitimacy in the Koran, adding it was a "trendy gateway theology for religious extremism and militant Islam."
"In reality it is a toxic patriarchy controlling women," he added.
On the other side the matter, Rabbi David Mason of Muswell Hill Synagogue, warned the Jewish Chronicle of Johnson's "racism with a smile," adding that the comments were "very problematic and raise a big concern."
Condemnation of the comments also came from the Chairman of the Jewish Leadership Council Jonathan Goldstein, who took to Twitter, posting: "Boris Johnson's comments totally disgraceful. Extraordinary to think he was foreign secretary only a few weeks ago."
With a Tory party inquiry into Johnson's conduct announced on Thursday, the matter looks set to rumble on.
Like this story? Share it with a friend!
Via RT. This piece was reprinted by RINF Alternative News with permission or license.