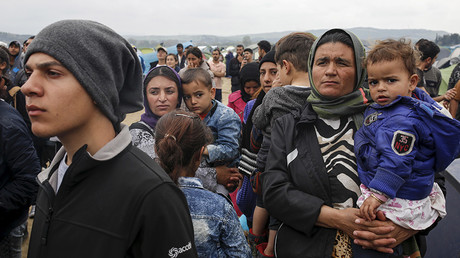 MPs have voted unanimously to classify the treatment of Yazidis and Christians by Islamic State (IS, formerly ISIS/ISIL) as genocide, despite strong government opposition to the move.
The British government has never formally recognized a genocide while it is ongoing, and is rumored to have demanded its MPs abstain from the vote.
The ethnically-Kurdish Yazidi minority in Iraq has been displaced by IS, which continues to systematically hunt down and enslave them.
Several mass graves have been discovered in areas formerly controlled by the terrorist group. One containing the bodies of 123 victims was found in northern Iraq last November.
Despite the harrowing reality of murder, violence and repression against Christians and Yazidis, the British government insists the matter is an issue for the courts, not Parliament.
The Foreign Office instructed ministers and parliamentary aides to abstain from Wednesday's vote on the grounds it is wrong for the government to prejudge the issue or act as a jury on a case which may be referred to the International Criminal Court.
Foreign Office minister Tobias Ellwood faced jeers and interruptions when he defended the government's stance in the Commons.
The European Parliament, US Congress, and Council of Europe have all used the term genocide to describe the IS treatment of Yazidis and Christians.
Prominent human rights lawyer Philippe Sands QC blasted the government for its stance.
"This will be taken as a further sign that the Conservative government of the UK has abandoned this country's long-standing commitment to the protection of human rights under the international rule of law," he said.
Tory MP Fiona Bruce told the Commons she had heard a "harrowing" personal testimony of a 16-year-old Yazidi girl, who was kidnapped after her father and brother were killed in front of her.
The teenager spoke of how every girl in her community over the age of eight, including herself, was imprisoned and raped.
"She spoke of witnessing her friends being raped and hearing their screams, of seeing a girl aged nine being raped by so many men that she died," Bruce said.
Labour MP Stephen Pound said failing to recognize IS oppression of Yazidis and Christians as genocide would be a "double discrimination."
MPs have urged the government to push the UN Security Council to refer the crimes to the International Criminal Court.
"We failed to prevent genocide in Bosnia. In Germany, the Nazis were appeased while they targeted Jews. The death cult of misfits that we face now cannot be allowed to get away with this for any longer," Tory MP Nus Ghani said.
Via RT. This piece was reprinted by RINF Alternative News with permission or license.