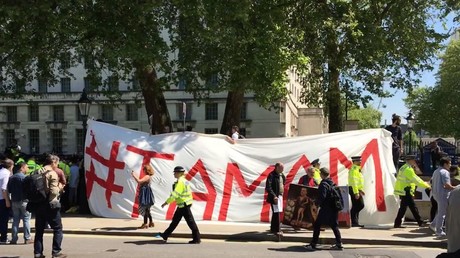 Tensions flared at Downing Street on Tuesday morning as human rights campaigners gathered to protest the arrival of Turkish President Recep Tayyip Erdogan.
Speaking to demonstrators, Labour Co-op MP Lloyd Russell-Moyle called Erdogan a "president of absolute power," who reruns elections and locks up opposition politicians. 
Russell-Moyle was speaking at a protest organized by pro-Kurdish solidarity groups, who are voicing concerns at Turkey's ongoing treatment of Kurds within Turkey, as well as the Turkish military's intervention in northern Syria – ostensibly aimed at moving Kurdish-led forces away from the the border.
Shouts of "Erdogan, ISIS,""Erdogan, murderer," and "Erdogan, terrorist," were heard as protesters waved placards showing the face of the Turkish strongman with 'terrorist' emblazoned across his eyes.
In July 2015, a two and a half year peace process between the Turkish government and Kurdistan Workers' Party (PKK), was called off by the Turkish government resulting in a new offensive which has seen the displacement of 350,000 civilians and massive urban destruction in some south-eastern districts.
Crisis Group puts the number of civilian casualties, caused by urban clashes in the south east or PKK-affiliated bomb attacks in metropolitan centers, at 440.
Others carried flags of the People's Protection Units (YPG) – the US-backed, Kurdish-majority ground forces that defeated Islamic State (IS, formerly ISIS) in Syria and now face-off with Erdogan's forces. While others held banners showed the face of imprisoned Kurdistan Workers' Party (PKK) leader Abdullah Ocalan, who Turkey deem a terrorist.
Separated by a growing sea of police, horses and barriers, dozens of pro-Erdogan supporters waved Turkish flags and blasted pop music through a crackling PA. Some chanted Islamist slogans "Allahu Akbar" and 'Ya Allah Bismillah allahu ekber'.
Erdoğan supporters chanting Islamist "Allahu Akbar" slogans ('Ya allah bismillah allahüekber') as they wait for ISIS and jihadi backing Turkish President being welcomed to Downing Street by Theresa May #ErdoganNotWelcome#TAMAMpic.twitter.com/wwpkGJ3pxr

— Kurdistan Solidarity Campaign (@KurdsCampaign) May 15, 2018
The pro-Kurdish rally came after a protest organized by free speech advocates, which included English PEN, Index On Censorship and Reporters Without Borders (RSF), railed against Erdogan's ongoing crackdown on independent media and journalists in Turkey.
According to RSF, since the failed coup against Erdogan in 2016, more than 100 journalists have been arrested, 140 media outlets shut down and at least 889 press cards rescinded under the ongoing state of emergency.
Over 100,000 people have lost their jobs as part of the crackdown, which includes members of the military suspected of being sympathetic to the coup, teachers, government officials, and members of the judiciary. Pro-Kurdish politicians have also been arrested and barred from office.
Speaking to protesters, RSF UK's chief Rebecca Vincent demanded the release of arrested journalists in Turkey.
"We must make it clear to our government here that we do care about the fundamental freedoms — these values that our own country is anchored upon," she said.
These sentiments were echoed by Russell-Moyle who said "freedom of expression and the press have been destroyed," under Erdogan.
"Yet it is with open arms and a warm embrace that this government welcomes this fascist here," he continued, charging the UK government with being "either unwilling or unable to criticize these violations of human rights" of a once proud secular  and liberal state.
Russell-Moyle called on the UK to cease its arms sales to Turkey, which have been used to kill Kurdish allies fighting IS in Syria, as well as British ones, a reference to Anna Campbell.
Campbell was killed in a Turkish airstrike in the northern Syrian city of Afrin while fighting with the Kurdish Women's Protection Units (YPJ). Her father Dirk stood beside Russell-Moyles while he spoke.
This is Dirk Campbell, father of martyred YPJ fighter Anna Campbell who was killed by the Turkish invasion of Afrin calmly debating with AKP supporters as they give the fascist Grey Wolf salute. A man of restraint, dignity and honour #ErdoganNotWelcome#BringAnnaHomepic.twitter.com/jsPQtAa7HE

— Kurdistan Solidarity Campaign (@KurdsCampaign) May 15, 2018
"British weapons kill our own citizens," he said. "These deaths must not be in vain. Theresa May must call out President Erdogan to halt this aggression immediately and this government must halt arms sales to Turkey."
The Afrin assault, dubbed Operation Olive Branch by Ankara, has seen between 289–500 civilian deaths, according to the Syrian Observatory for Human rights.
After Kurdish forces left the city, reports surfaced of looting and robbing by Turkish-backed militias involved in the fighting.
According to the Department of Trade, Turkey is listed as a 'priority market' for UK weapons exports. Since the failed coup of 2016, more than £650 million ($878m) in arms export licenses have been signed with Ankara. Equipment included small arms, ammunition, missiles, as well as components for drones, aircraft and helicopters.
In January, May's government oversaw the signing of a £100 million ($135m) agreement that will see UK firm BAE Systems assist Turkish manufacturers in designing a new fifth-generation stealth fighter. The program may also see Roll-Royce provide engines for the 250 planned aircraft for the Turkish Air Force as well as any potential exports to other customers.
Like this story? Share it with a friend!
Via RT. This piece was reprinted by RINF Alternative News with permission or license.