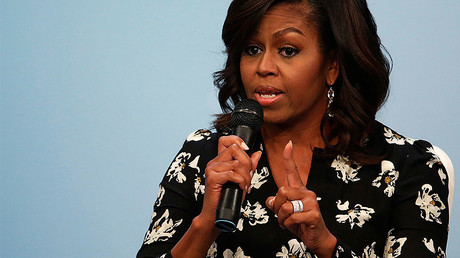 Tens of thousands of people have signed an online petition calling for a mayor in West Virginia to resign after she liked another official's Facebook post which described Michelle Obama as an "ape in heels."
The director of the government-funded non-profit Clay County Development Corporation, Pamela Ramsey Taylor, posted a Facebook message in which she negatively compared First Lady Michelle Obama to Melania Trump.
"It will be so refreshing to have a classy, beautiful, dignified First Lady back in the White House. I'm tired of seeing a [sic] ape in heels," Ramsey Taylor's now-deleted post read.
The mayor of Clay, Beverly Whaling, liked the post and commented, "Just made my day Pam."
The post spread like wildfire on the internet – even after both women's Facebook accounts were deactivated – as people expressed disbelief and dismay that a mayor and development official would publicly support racist views.
A phone number belonging to Clay County Development Corp was also widely circulated among those urging people to complain directly to the organization about Ramsey Taylor's message.
An online petition calling for both of the women to be removed from their jobs quickly gained thousands of signatures, with nearly 90,000 people backing it by Tuesday morning. The backlash is particularly staggering considering that, according to the 2015 US Census, Clay has a population of just 8,910.
The swirl of opprobrium quickly led to Ramsey Taylor being removed from her job with the Clay County Development Corp, according to the Charleston Gazette-Mail.
Ramey Taylor told local news channel, WSAZ that she is sorry for everything that has happened, but says she now believes the situation has turned into a "hate crime against me."
Whaling issued an apology to The Washington Post, however calls for her to resign have continued.
"My comment was not intended to be racist at all," Whaling outlined.
"I was referring to my day being made for change in the White House! I am truly sorry for any hard feeling this may have caused! Those who know me know that I'm not of any way racist!" she said.
Clay County Sheriff Garrett Samples told WSAZ that threats have been made against the two women and other county workers in response to Ramsey Taylor's Facebook post, although no official reports have been filed.
Via RT. This piece was reprinted by RINF Alternative News with permission or license.