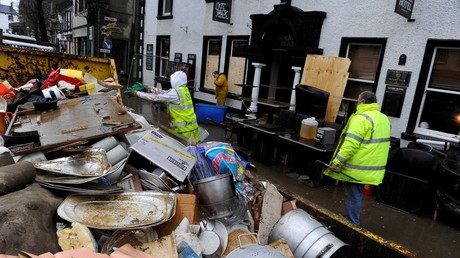 The revelation that UK Environment Minister Michael Gove's post-Brexit waste strategy includes allowing people to search rubbish dumps for reusable appliances, like old television sets, has sparked an outpouring of mirth.
According to the Sunday Times, Gove's waste strategy plan, due to be put forward to government next month, includes allowing people to visit council rubbish dumps for items they can reuse such as old appliances or furniture.
"We must reduce the amount of material we waste," Gove is said to have told a meeting. "At the moment if I take something to the dump for which I have no use but which you could happily have picked up and reused then you are not allowed to."
Referencing a 1970s television show about self-sufficiency, the environment secretary said reusing appliances can boost the economy.
"It is not an answer to everything but greater reuse is one way to ensure that pressure on resources diminishes. I do not want to go full 'Good Life' but resource efficiency is good for the economy," he said.
One might be hard pushed to find a environmentalist poking fun at recycling, but Gove's name is toxic in some circles because of his role in pushing for Britain to leave the European Union.
READ MORE: Is Boris Johnson UK's next prime minister? – Ken Livingstone
Many have taken to Twitter to ridicule his comments, claiming that rooting through rubbish is an allegory for a Tory Brexit.
"Panic over. We're going to be fine," quipped, LBC radio host, James O'Brien. "Climbing through rubbish heaps in hopes of finding something valuable… Not just a metaphor for Brexit, but part of the actual plan," Human Rights Watch media director, Andrew Stoehlein, added.
Like this story? Share it with a friend!
Via RT. This piece was reprinted by RINF Alternative News with permission or license.