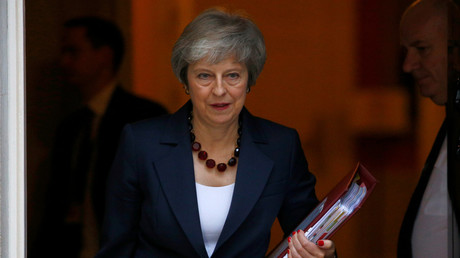 Theresa May will 'likely' face a vote of no-confidence as leader of the Tory party on Thursday, BBC political editor Laura Kuenssberg tweeted, citing an unnamed member of the Conservative Party.
The rumors came as the Prime Minister attempted to get a cabinet agreement on the UK/EU brexit deal.
Senior tory tells me Brexiteer anger so high that seems likely there will be a call for no confidence vote tomorrow – letters going in –

— Laura Kuenssberg (@bbclaurak) November 14, 2018
Kuenssberg cited significant 'Brexiteer anger' over May's EU deal, so much so that some were submitting letters to the head of a committee of conservative lawmakers, who handles leadership challenges.
Understand there has not yet been an official ERG decision to get group to push button on letters going in, but levels of anger so high that some are doing it anyway – this might be the start of crashing into a leadership contest by accident – impossible to tell yet

— Laura Kuenssberg (@bbclaurak) November 14, 2018
The PM's deal has faced strong opposition from both within her own government and from Labour, and could be set to be voted down in Parliament should it even be agreed-upon at cabinet level. 
News of the completed deal broke yesterday, leading to muted support from May's allies and vows of opposition from Labour and Brexiteers. 
READ MORE: British Army 'ready to help' in case of no-deal Brexit – general
Earlier, at Prime Minister's Questions, Labour leader Jeremy Corbyn attacked the proposed deal as the inevitable result of "two years of bungled negotiations."
Labour and Brexiteers have become unlikely bedfellows in their opposition to the deal.
Despite resigning as foreign secretary and thus having no direct knowledge of the said documents, Boris Johnson slammed the deal as "vassal state stuff." MP Jacob Rees-Mogg was reportedly trying to organize MPs against the deal just hours after it was agreed. 
DETAILS TO FOLLOW
Via RT. This piece was reprinted by RINF Alternative News with permission or license.