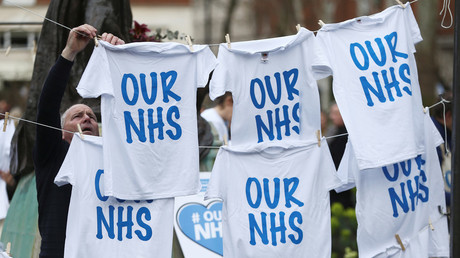 Prime Minister Theresa May has said most people should "celebrate" the private sector's impact on the NHS –  on the same day a Stephen Hawking-backed campaign to stop privatisation of the health service reaches the high court.
May came under fire at PMQs from Labour Leader Jeremy Corbyn, for what he sees as her Tory "government tearing up the founding principles of the NHS and putting private profit before public service."
May retorted "we have made sure we remain true to the founding principle of the NHS that it is free at the point of delivery," adding that even the former Labour Health Secretary Andy Burnham had supported the contribution of the private sector.
READ MORE: Forget the NHS, spend on defense – US ambassador tells UK
"The former Health minister, now the mayor for Manchester said the private sector puts its capacity into the NHS for the benefit of NHS patients, which I think most people in the country would celebrate," she continued.
This and May's claim that the Tories have put in extra funding since 2010, keeping the NHS "free at the point of use," drew jeers from the opposition benches. Corbyn later proclaimed a somewhat uncomfortable truth for the Tories, that it was they who voted against the introduction of the NHS back in 1948.
It seems particularly pertinent that PMQs was dominated by the NHS, on a day when a campaign group, once backed by the late physicist Hawking, reaches the high court. JR4NHS, a group founded by three doctors and a university professor, has brought legal proceedings to challenge Health Secretary Jeremy Hunt's plans to open up the NHS to increased involvement of private companies.
Before his death in March, Hawking had warned that the introduction of American-style accountable care organizations (ACOs), under the stewardship of Hunt, would see private companies run sections of the NHS and social services that would constitute an "attack on the fundamental principles of the NHS," report AOL.
The five claimants are now four, following the death of Professor Stephen Hawking in March, but his fight for the NHS continues to inspire us.

— JR4NHS (@jr4nhs) May 16, 2018
Campaigners such as Youssef El-Gingihy, GP & author of 'How to dismantle the NHS in 10 easy steps,' has said that today's high court challenge is a chance "to put the brakes on government plans to convert the NHS into US-style ACOs," in which multi-billion pound "10-15 year contracts for health and social care could be handed over to private healthcare/insurance corporations."
Today's judicial review is opportunity to put brakes on govt plans to convert #NHS into US style accountable care organisations (ACOs) in which multi billion 10-15 year contracts for health and social care could be handed over to private healthcare/insurance corporations #JR4NHS

— Youssef El-Gingihy (@ElGingihy) May 23, 2018
Announcing his support for the legal challenge in December 2017, Hawking insisted that the NHS "must be protected from those who want to privatise it".
He warned "(ACOs) have not been established by statute, and they appear to be being used for reducing public expenditure, for cutting services and for allowing private companies to receive and benefit from significant sums of public money."
Hunt's Health Department have labelled the campaigners' claims about ACOs as "irresponsible scaremongering." Hunt himself labelled Hawking's claims as a "pernicious falsehood" in a tweet on social media, saying "idea govt wants US-style insurance system. Is it 2 much to ask him to look at evidence?"
Most pernicious falsehood from Stephen Hawking is idea govt wants US-style insurance system.Is it 2 much to ask him to look at evidence? 1/2

— Jeremy Hunt (@Jeremy_Hunt) August 19, 2017
It was suggested that Hunt had shown poor judgement by asking one of the world's most brilliant individuals whether he had looked at the "evidence."
May's assurances over the NHS, in it's 70th year, may fall on deaf ears for many as it would appear that Britons' national treasure is in a perilous state. With high court challenges in full swing, a shortage of around 100,000 staff and Tory MPs bringing debates to parliament to discuss charging patients, the public health service's ability to provide free treatment at the point of use over the next 70 years, may not be so certain.
Omar Baggili, RT Journalist
Like this story? Share it with a friend!
Via RT. This piece was reprinted by RINF Alternative News with permission or license.