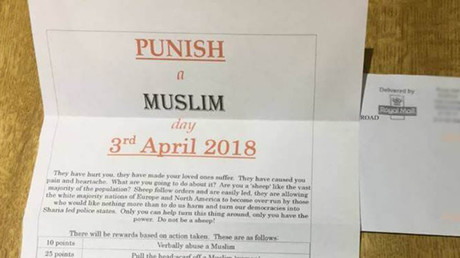 A 35-year-old man has been charged in connection with the Islamophobic 'Punish a Muslim Day" investigation, counter-terrorism police say.
A series of menacing letters headed 'Punish a Muslim Day' were sent to Muslim MPs earlier this year, calling for acid attacks against Muslims, mosque bombings, and the tearing off of hijabs, part of Islam's traditional female clothing.
David Parnham, from Lincoln, has been charged with 14 offences, including soliciting to murder, staging a bomb hoax, and sending threatening letters.
READ MORE: Muslim MPs sent 'Punish a Muslim Day' letters encouraging mosque bombings
Counter Terrorism Policing North East said in a statement: "Those affected by hate crime can rest assured that we and our partners take such investigations extremely seriously and are avidly committed to seeking justice in all circumstances."
Parnham was arrested following searches at a residential property in South Lincoln and an office building in the city's center, and will appear before Westminster Magistrates' Court on Friday.
Tell Mama, a group tackling anti-Muslim hate crime in the UK, said several people who had received the letter reported it to them.
They said the letter had a particular impact on women, some of whom said they would not go to work, or would refrain from wearing a hijab in order to look less Muslim.
Atta, director of Tell MAMA, said: "The campaigns caused anger, dismay and fear within some sections of Muslim communities and we will do all we can to assist the police and counter terrorism officers where we can."
After the letters first appeared in March 2018, Detective Chief Superintendent Martin Snowden, head of the north-east counter-terrorism policing unit, said: "These letters seek to cause fear and offence among our Muslim communities. They also seek to divide us. Yet, in spite of this, our communities have shown strength in their response to such hatred and in their support for each other."
If you like this story, share it with a friend!
Via RT. This piece was reprinted by RINF Alternative News with permission or license.