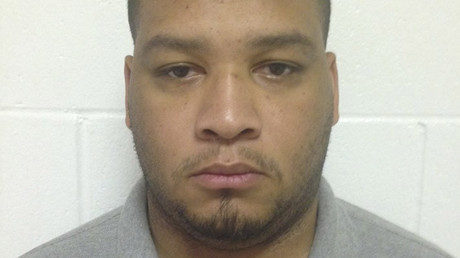 A Louisiana police officer who fired 14 shots at a father and his six-year-old autistic son, killing the child, has been found guilty of manslaughter. Derrick Stafford fired on Chris Few and his son Jeremy Mardis after a car chase in November.
Stafford, 33, was found guilty of manslaughter and attempted manslaughter, a conviction which carries a sentence of 15 to 40 years, WAFB reported. He had previously faced charges of second-degree murder and attempted second-degree murder in relation to the incident in Markville which was caught on camera.
READ MORE: Bodycam shows police firing 18 bullets at SUV, killing 6yo autistic boy (GRAPHIC VIDEO)
Mardis' family said in a statement that they were satisfied with the verdict: "As we have said all along, our goal in this case was to get justice for Jeremy Mardis, his family, and the people of Louisiana. Today, that happened."
The six-year-old had been sitting in the back of an SUV driven by his father and pursued by police when Stafford, along with another officer, fired 18 bullets collectively at the vehicle. The boy was killed and his father seriously wounded.
READ MORE: 2 officers arrested in shooting of 6yo autistic boy in Louisiana, accused of 2nd degree murder
Testifying in court, Few said he regained consciousness six days after the shooting, on the day of his son's funeral.
Stafford fired 14 of the bullets, the court heard. The second officer, Norris Greenhouse Jr, faces a separate trial on murder charges later in the year.
Testifying on Friday, Stafford cried when was shown images of Mardis, claiming: "Never in a million years would I have fired my weapon if I knew a child was in that car. I would have called off the pursuit myself."
He said he fired his weapon as he believed Few would reverse his vehicle into Greenhouse Jr.
Mardis and Few, who was unarmed, are both white and Stafford and Greenhouse Jr black. Stafford's defense attorneys argued his arrest within one week of the incident was a rush to judgment, asking if the officer would have been arrested in the same timeframe if he was white.
Few told the court he was not warned before the officers opened fire. Asked if he regretted not stopping his car when he was aware police were pursuing him, he responded: "Most definitely. Every day."
Via RT. This piece was reprinted by RINF Alternative News with permission or license.