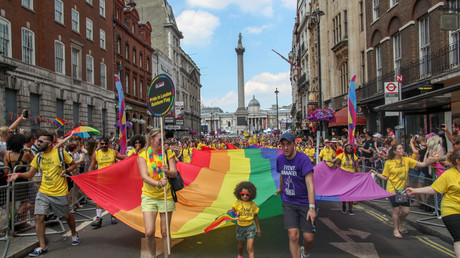 Pride in London has apologized after being heavily criticized for allowing a small anti-trans group of women to lead the parade on Saturday. The organizers called Get the L Out's behavior "unacceptable."
Ten women from the anti-trans group appeared at the front of the parade carrying banners saying "transactivism erases lesbians" and describing the trans movement as "anti-lesbianism."
Other LGBT groups called on organizers to justify how the group had been able to make it to the front of the 30,000-strong parade. Chair of LGBT+ Lib Dems Jennie Rigg described the protest as "a betrayal of the thousands marching."
A statement from our chair, @miss_s_b re @PrideInLondon.

"I am appalled that transphobic protestors were allowed to lead the march and the crowd asked to cheer them on. This is a betrayal of the thousands marching. The Pride organisers should resign and offer a full apology."

— LGBT+ Lib Dems (@LGBTLD) July 7, 2018
Disgraceful that anti-trans protestors were allowed to lead #prideinlondon today. @prideinlondon need to apologise immediately for allowing this to happen. These people should never be allowed to march at pride again. LGBT Labour stand shoulder to shoulder with our trans members.

— LGBT Labour (@LGBTLabour) July 7, 2018
Pride apologized for the "disgusting" behavior by the protest group and said in a statement: "The protest group showed a level of bigotry, ignorance and hate that is unacceptable. We reject what this group stands for. They do not share our values, which are about inclusion and respect and support for the most marginalized parts of our community."
A Get The L Out spokeswoman said the group was protesting against lesbians being "threatened and intimidated" by the GBT community.
"The GBT community today, by supporting the rights of males who 'identify as lesbians' (also called 'transwomen') over the rights of lesbians to choose their sexual partners (on the basis of their sex, not how they 'identify') is in fact enforcing heterosexuality on lesbians," she said, according to the BBC. "This is a misogynistic and anti-lesbian manifestation of the rape culture we live in."
If you like this story, share it with a friend!
Via RT. This piece was reprinted by RINF Alternative News with permission or license.