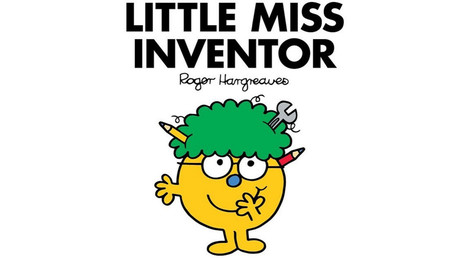 A new 'Little Miss' character has been launched to inspire a generation of girls to take science, tech and engineering subjects – industries underrepresented by women. Some say the character is actually anti-feminist, however, as it still uses the words 'little' and 'miss.'
Little Miss Inventor, a "positive role model" for girls, will be the 35th Little Miss character and joins the likes of Little Miss Sunshine and Little Miss Magic. The character, with pencils and a spanner in her hair, is described as "intelligent, ingenious and inventive." Her book blurb says "her brain is full of ideas, which she turns into extraordinary inventions in a shed at the bottom of her garden."
"As well as inventing things for herself, she also invents things for her friends, whether it's a chatter-natter hat for Little Miss Chatterbox or a back-pack-snack-attack fridge for Mr. Greedy," it adds. "But her greatest challenge yet has her stumped, what on earth could she invent for Mr. Rude?!"
The book telling her story will be released in March next year. It will tie in with International Women's Day and British Science Week.
"I always enjoy creating a brand new character for the series and it was fun coming up with lots of crazy inventions for Little Miss Inventor's home and silly ones for all her friends," Mr Men and Little Miss creator Roger Hargreaves said, according to the Evening Standard. "It's also been nice to write a story that promotes a positive role model and to challenge a stereotype, if only in a small way."
Many welcomed the new Little Miss character as pushing young girls into science and technology, and encouraging feminism. Others derided the use of words "little" and "miss" as sexist in themselves, however.
"Inventor is good," Facebook user Colin Davey wrote. "But isn't it more important to address why the whole series is still 'Little Miss' anything? But given the first book was 'Little Miss Bossy', I suppose we've come a long way… slowly."
Tracey King wrote on Twitter: "They're sexist garbage and no amount of 'do an inventor one' will make up for being called Little Miss."
Little Miss Inventor joins more than 90 other characters which have been created over the brand's 45-year life span. The franchise first launched after Hargreaves' son asked him what a tickle looks like. Hargreaves drew a small orange man with long arms that could reach and tickle anyone. And so Mr Tickle was born.
Via RT. This piece was reprinted by RINF Alternative News with permission or license.