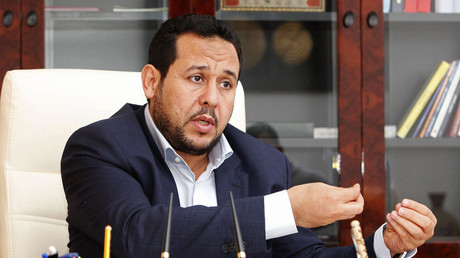 Rendition victim Abdul Hakim Belhaj has reportedly reached an out-of-court settlement, ending an epic legal battle, after he and his wife were abducted in 2004. Details of a legal deal are expected to be announced on Thursday.
The pair, who have been fighting for an apology and symbolic compensation payment of £1, have been embroiled in a legal battle for years after claims that Belhaj and his then-pregnant wife Fatima Boudchar were kidnapped in Asia in 2004 during a joint operation between the CIA and MI6 as part of a rendition program.
READ MORE: Libyan dissident can sue British govt over MI6 rendition policy, Supreme Court rules
Rendition – defined as the practice of covertly taking a suspect to be interrogated to a country with less rigorous regulations for the humane treatment of prisoners – was widely used in the wake of the 9/11 attacks. Belhaj and Boudchar were abducted and taken to a Tripoli prison under Muammar Gaddafi's regime. Belhaj was the emir of the defunct Libyan Islamic Fighting Group, an anti-Gaddafi guerrilla group.
BREAKING: Belhaj, who claims that MI6 was complicit in his rendition to Libya in 2004 has settled after epic legal battle. Key questions now – how much info will be put in public domain tomorrow?

— Francis Elliott (@elliotttimes) May 9, 2018
According to human rights charity Reprieve, which assisted the couple in their legal challenge, Belhaj was tortured in both Libya and at a CIA 'blacksite' in Asia.
Attorney General Jeremy Wright QC is due to make a statement on Thursday to MPs about what is expected to be the terms of the deal with Belhaj and his wife. Boudchar will be present in Parliament with her son Abderrahim.
NEW: Tomorrow (Thu) the Attorney General will make a statement in Parliament in the matter of Abdul-Hakim Belhaj and Fatima Boudchar. Fatima and her son Abderrahim will be in Parliament to hear it #Belhajpic.twitter.com/1XfN5RVxHu

— Reprieve (@Reprieve) May 9, 2018
A spokesperson for the Attorney General's office confirmed that a statement on the Belhaj matter will happen. "There will be a statement [about Belhaj on Thursday]," the spokesperson said.
Belhaj, who is now a military commander in Libya, is expected to make a statement in Istanbul shortly afterwards. He won the right to sue the UK government and Jack Straw, who was the Foreign Secretary at the time and reportedly signed off on the kidnapping, in 2017.
Think your friends would be interested? Share this story!
Via RT. This piece was reprinted by RINF Alternative News with permission or license.