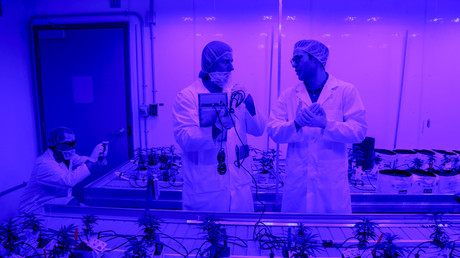 A former Met Police chief, who enforced tough anti-drug laws, is the latest voice in the UK establishment to call for a review into cannabis legislation, urging the Home Office to look at Canada and the US for inspiration.
Lord Bernard Hogan-Howe, who was made a life peer last week after 40-years in the police, told Channel 4: "If I was home secretary, I would have an urgent commission of experts to look at the evidence about what's happening about cannabis in North America."
READ MORE: 'Potentially thousands' of child slaves forced to work on illegal London cannabis farms
His call comes as the UK Government will now make medicinal cannabis available on prescription. Home Secretary Sajid Javid broke with decades of anti-cannabis policies, bowing to public pressure to legalise the drug for medical purposes following several high profile cases.
Lord Hogan-Howe argued that there was evidence that medicinal use "slides into recreational" use, and that "Surely it's better that we get ready for that potential change.
"I've not seen clear evidence to say change the law now. But I have seen clear evidence to say let's review it, but in a time-limited way, not a kicking-into-the-long-grass way.
"I think we need to get on with it, now the government has made it easier to get medical cannabis on prescription.
"We're lucky – we're not the pioneers and we can learn from others' mistakes. The evidence is out there and it shouldn't be ignored."
The Home Office insists that the despite the recent change in the law, there is no path "towards legalising cannabis for recreational use."
READ MORE: Coca-Cola in 'serious talks' about branching into cannabis beverage market – report
Ahead of his time as Met Commissioner in 2007, Hogan-Howe called for cannabis to be upgraded from a C class to a B class substance. The government duly made the change a year later, despite much political and public opposition. Possession of cannabis in the UK could lead to up to five years in prison and an unlimited fine.
If you like this story, share it with a friend!
Subscribe to RT newsletter to get stories the mainstream media won't tell you.
Via RT. This piece was reprinted by RINF Alternative News with permission or license.