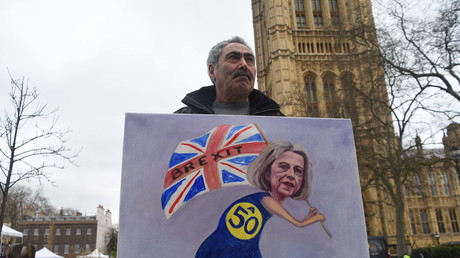 With just a year to go before the UK effectively withdraws from the EU, the public has taken to social media to call for a '#finalsay' on the Brexit deal, having branded the Vote Leave campaign the "biggest dupe."
Remainers are using the '#finalsay' hashtag to vent their frustration at the UK's "catastrophic" decision to quit the bloc, and to call on the government to give the public a vote on any final deal. The idea of not having a say on the Brexit deal is "intellectually bankrupt," according to one social-media user.
Tweeters have taken to the social media platform to argue that it is not merely Remainers who yearn for another run at the Brexit vote, but Leavers too.
I've seen Leave-voting inlaws break down in tears of regret, rural Leave voters devastated over decline in their areas, elderly Leave voters shocked&confused at the Brexit plans so far. Always the resounding message "we didn't want this". When do they get a #FinalSay ?

— Laila (@tapeparade) March 28, 2018
The #finalsay Twitter trend comes just after it emerged that Vote Leave may have acted unlawfully during the EU referendum. Cambridge Analytica's former director of research turned-whistleblower Christopher Wylie claimed the campaign had exceeded the legal spending limits imposed by the Electoral Commission by collaborating with pro-Brexit BeLeave, among others. Now, following the allegations of "cheating" by Vote Leave, Remainers are stepping up their campaign to reverse the decision.
Brexit #FinalSay

We already knew that they lied
Now we know they cheated
And now they certainly can't deliver

The very idea that we can't vote on the final deal is undemocratic, unsustainable and intellectually bankrupt.@IsabelOakeshott & @JuliaHB1 will be pleased.#FBPE

— Paul O'Connor 🇪🇺❄️ #FBPE 🇮🇪 (@POCX100) March 27, 2018
It comes as a major academic report found that Britain would vote to stay in the EU if a new referendum were held within the next 10 years. The report, funded by the Economic and Social Research Council, found trends representing a shift in attitudes, including an increased acceptance of immigration, that would, they posit, swing the vote in favor of Remain.
This one tweet substantiates the theory:
21 months after the EU ref, nobody, from the very Prime Minister down, has a clue what Brexit meant then, what it means now or what it means for the UK in the future. It's turned out to be the biggest Tory dupe we've ever seen from a long, enduring list of Tory dupes. #FinalSay

— Garrie Coleman (@garrie_coleman) March 29, 2018
But there were also those opposing calls for a final say, as they argued that Britain has already had its chance to choose in the 2016 EU referendum.
If you like this story, share it with a friend!
Via RT. This piece was reprinted by RINF Alternative News with permission or license.