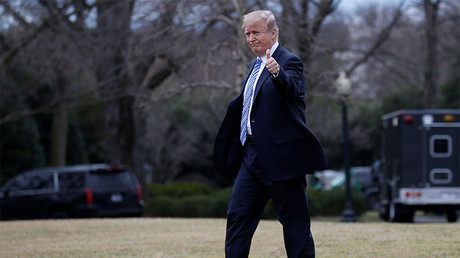 US President Donald Trump said in a tweet on Wednesday that Chinese President Xi Jinping had told him a meeting with North Korean leader Kim Jong-un had gone well, and that Kim was looking forward to meeting with Trump.
Received message last night from XI JINPING of China that his meeting with KIM JONG UN went very well and that KIM looks forward to his meeting with me. In the meantime, and unfortunately, maximum sanctions and pressure must be maintained at all cost!

— Donald J. Trump (@realDonaldTrump) 28 марта 2018 г.
Kim's trip to China this week was the 34-year-old leader's first foreign visit since he assumed office in 2011. The trip more than likely served as a warm-up to summits with the United States and South Korea in the coming months.
According to China's Xinhua News Agency, Kim pledged to denuclearize the Korean Peninsula, and in return Xi pledged to maintain China's long-standing alliance with the pariah nation.
"The issue of denuclearization of the Korean Peninsula can be resolved, if South Korea and the United States respond to our efforts with goodwill, create an atmosphere of peace and stability while taking progressive and synchronous measures for the realization of peace," Xinhua quoted Kim as saying. Trump appeared to share Kim's optimistic outlook.
For years and through many administrations, everyone said that peace and the denuclearization of the Korean Peninsula was not even a small possibility. Now there is a good chance that Kim Jong Un will do what is right for his people and for humanity. Look forward to our meeting!

— Donald J. Trump (@realDonaldTrump) 28 марта 2018 г.
Despite the apparent goodwill between both sides, former US ambassador Robert Gallucci – who helped broker the framework on nuclear weapons between the Clinton administration and Kim's father, Kim Jong-il – warned Trump against trusting Pyongyang. Gallucci said that in his experience, "they will cheat" on any deal, adding that he is "not particularly optimistic" this time around.
Nevertheless, the current climate of detente, which began with both Koreas performing as one nation at the PyeongChang Winter Olympic games last month, is an about-turn from the tit-for-tat escalation of recent months.
At the height of the war of words between Washington and Pyongyang, Trump dubbed Kim "little rocket man" and threatened to rain "fire and fury like the world has never seen" onto North Korea.
In return, Kim called Trump a "dotard" and continued to ramp up his regime's ballistic missile testing.
Via RT. This piece was reprinted by RINF Alternative News with permission or license.