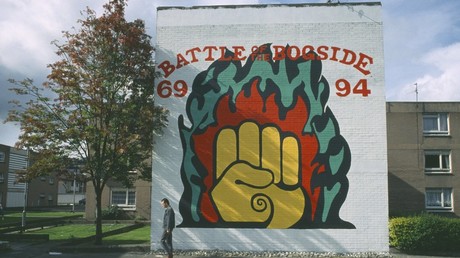 British and Israeli flags were burned in a huge annual Republican bonfire in Derry, that saw signs with names of murdered police officers and poppy wreaths also incinerated.
Police Service of Northern Ireland (PSNI) has described the bonfire, held on Wednesday, as a hate crime, while the son of one of murdered police officers has expressed his anger at the event.
Later on Wednesday, three petrol bombs were reported to have been thrown at the city's centuries old walls. While one man was arrested on suspicion of making, possessing and throwing a petrol bomb. He remains in police custody.
The bonfire was held in the staunchly republican area the Bogside, where British Soldiers killed 14 people in 1972, in an event that come to known as Bloody Sunday.
Bonfires are held on 15 August as tradition in some nationalist parts of Northern Ireland in order to mark the Catholic Feast of the Assumption. While to others they are held to commemorate the British policy of internment. Introduced in 1971 the policy saw republican suspects indefinitely detained without trial. 
DETAILS TO FOLLOW
Via RT. This piece was reprinted by RINF Alternative News with permission or license.