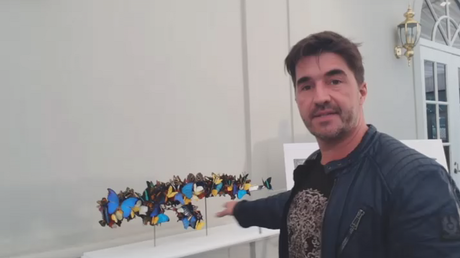 US customs has refused entry to contemporary art installations featuring three decommissioned AK-47 assault rifles brought by a British man for an exhibit. The artist found it "ironic" in a country which allows citizens to freely carry guns.
Bran Symondson, a prominent British artist and a former soldier, was supposed to display the art pieces at an exhibit hosted in the city of Houston by London's Maddox Gallery. The three installations titled "Spoils of War", "Beat of a Wing" and "Virtue of the Vicious" are made from guns plastered either with butterflies or real dollar bills.
"Our pieces got refused entry to the United States because of the ATF laws and regulations of firearms. But my pieces were decommissioned…The ATF seized them. They basically said they weren't allowed into the country," Symondson told RT.
Originally, the weapons were used in war zones and were found en route from Afghanistan to Syria. In 2011 Symondson received the Amnesty International Media Award for the unusual installations.
A Maddox Gallery spokesman confirmed the pieces were intended to be showcased at an exhibit in Houston.
"The pieces have been halted at US customs and will not be permitted to be released for Maddox Gallery's exhibition this week due to US customs law," he said.
The installations now have to be shipped back to the UK, the artist said. He added that the fact they were originally manufactured in Russia might have played a role in the authorities' decision to confiscate them.
"One of the issues that was flagged up is that the AK-47s originally were from Russia, even though they were captured in Syria en route from Afghanistan and then brought back to the UK and decommissioned there, these AK47s were actually made in Russia originally. And it was flagged up by the ATF that they have an issue with bringing in weapons that are made in Russia," he told RT.
Disappointed, Symondson called the situation "ironic".
"It is ironic that the law permits US Citizens to go and buy a new, live weapon which I could, in theory, use to create one of my artworks from, which then could technically be used in its intended form but will not allow my pieces of harmless art into the country," he pointed out.
Having his pieces taken away, Symondson had to construct a replica of his artwork right on the spot for the exhibit to run. He managed to do so just in three days.
"I was able to get a replica of AK-47 in the United States three days prior to the show. This piece would have normally taken me about a week to make, but it took me three days because I just worked through the night. And this piece sold on the opening night," he told RT. "For any future art pieces I'll actually have to come physically to the United States to make them here."
According to the General Firearms Laws of The State of Texas, citizens are not allowed to carry a handgun outside their own premises. However, they are permitted to carry a shotgun or rifle, either open or concealed, in a non-threatening or alarming manner. Just recently Texas passed a law authorizing people of 21 years and older with a proper license to take weapons onto college campuses.
Via RT. This piece was reprinted by RINF Alternative News with permission or license.