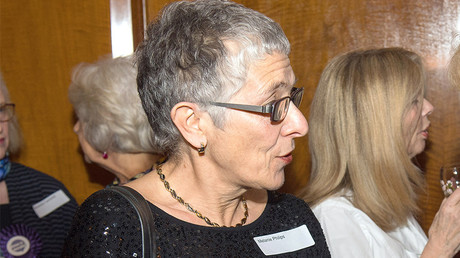 Melanie Phillips has sparked furore after stating that Islamophobia is just a "fiction to shut down debate." Writing in the Times, Phillips compared Islamophobia to anti-Semitism, denying any equivalence between the two.
The ex-Guardian writer first espoused her position on the BBC's Sunday Politics program, shocking her fellow panelists when she stated that "the accusation of Islamophobia covers legitimate criticisms of the Muslim community."
Phillips continued, adding that "any criticism of the Muslim community is considered Islamophobic. There is no equation between Islamophobia, which is used as a means of shutting down legitimate criticism of the Muslim community, and anti-Semitism; for which there is never any excuse at all.
READ MORE: Muslims threatened with acid attacks in Bradford, forcing police to increase patrols
"Anti-Semitism is not just a form of racism, it is a unique derangement which is based entirely on lies and demonisation," she said. "The same cannot be said of what is considered Islamophobia. The term Islamophobia itself is used to cover legitimate criticism of Muslims or the Muslim community."
A fellow panelist on the program, Guardian journalist Dawn Foster, retweeted several critics of Phillips' comments, including Matt Zarb-Cousin, adding that it "is appalling and shows how mainstream Islamophobia has become."
Phillips' words came following a discussion about comments made by Baroness Warsi, who questioned if there should be an internal investigation into Islamophobia in the Conservative party, after a string of Tory councillor candidates were suspended for making Islamophobic remarks.
READ MORE: Racism, homophobia & assault: 8 Tory council election candidates suspended over allegations
Following on from her television appearance, Phillips penned an opinion piece for the Times that hit back at her naysayers, labeling the backlash as a case of "cue foaming" even "before the credits started to roll."
"Anyone who calls out Islamist extremism as a fanatical or primitive interpretation of Islam currently dominant in the Muslim world is called an Islamophobe," she wrote in her Times op-ed. "Anti-Semitism is in fact the only prejudice which can be viewed as a derangement of reason. Islamophobia seeks to arrogate that status to itself. That's why the Muslim world invented the term: to turn criticism of the Islamic world into a pathology. Not only would this silence debate but it would serve a deeper project."
Interesting to see who Melanie Phillips cites to support various points she makes in her appalling, ignorant "Islamophobia is a fiction" article in The Times – Ayaan Hirsi Ali, Maryam Namazie and @FaithMattersUK's Fiyaz Mughal.

— Shoaib M Khan (@ShoaibMKhan) May 8, 2018
Social media was abuzz with criticisms of Phillips' comments. Human rights lawyer Shoaib Khan wondered what those who were used as examples by Phillips in her piece would think – author Ayaan Hirsi Ali, political activist Maryam Namazie, and Faith Matters UK's Fiyaz Mughal.
Melanie Phillips said "there is no equation between Islamophobia which is used as a means of shutting down legitimate criticism of the Muslim Community and anti semitism which there is never any excuse at all for" So does she think she can have an excuse to be racist to me? WOW https://t.co/EM3llECL9o

— Emina Ibrahim (@Emina_ibrahim) May 6, 2018
Al Jazeera English host Mehdi Hasan was quick to replace a few key works in the Times' headline to turn Phillips' argument around. While the assistant secretary general of the Muslim Council of Britain, Miqdaad Versi, labeled Philips' comments as "disgusting," before praising others on the panel for speaking up. Labour activist Noah Sorensen was straight to the point: "She makes me ashamed to be Jewish," he said.
Baroness Warsi also took the platform, tweeting her thanks to a user's mocked-up headline for her Times piece. 
Momentum's Emina Ibrahim took to Twitter to share her disbelief, while members of the Jewish community were quick to point out her hypocrisy.
Phillips, however, was firing back at her Twitter-haters, thanking those speaking out against her for "proving" her point and slamming those for their "disgraceful misinterpretation" of her words.
I said in terms that prejudice against Muslims Sikhs Hindus etc exists but Islamiphobia is a term invented to silence legitimate discussion. I think questions need to be asked of this woman why she misrepresented my words https://t.co/xlH68GwNpM

— Melanie Phillips (@MelanieLatest) May 6, 2018
Phillips, a former news editor of the Guardian, departed the left-leaning publication in 1993, claiming her relationship with readers had become "like a really horrific family argument." After three decades in journalism, including a career spanning the Daily Mail, the Times, and her own digital media company, she left a sour taste in the mouths of many; inspiring a string of Facebook groups similarly named: 'I hate Melanie Phillips' and 'Melanie Phillips should not be on the BBC.'
Ed Husain, author of The Islamist, once described Phillips' "zealotry and ignorance" as frightening. "How did we produce a public commentator filled with such anger, venom and hatred?" Husain asked.
Think your friends would be interested? Share this story!
Via RT. This piece was reprinted by RINF Alternative News with permission or license.