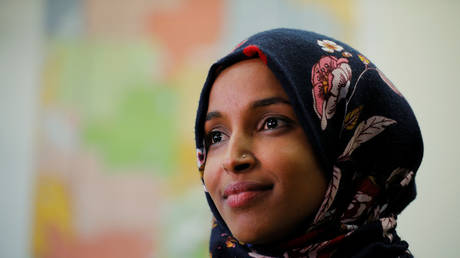 Rep Ilhan Omar's tweet that US politicians' support for Israel is 'all about the Benjamins' sparked a furious backlash on Twitter, with cries of anti-Semitism from some, while others detailed the Israeli lobby's influence.
The controversy kicked off when Omar shared, and responded to, a tweet by journalist Glenn Greenwald about Republican Kevin McCarthy (R-CA) threatening punishment against her and Rep. Rashida Tlaib (D-MI) for their support for the Boycott Divestment & Sanctions (BDS) movement.
Journalist Batya Ungar-Sargon swiftly reacted, wondering who Omar thinks "is paying American politicians to be pro-Israel," and accused her of making an "anti-Semitic trope."
"AIPAC!" the congresswoman responded, referencing the influential American Israel Public Affairs Committee lobby group, which spent $3.5 million on pro-Israel lobbying in 2018, and $3.4 million in 2017.
Many took to Twitter to accuse Omar of anti-Semitism, with others claiming ignorance about AIPAC.
Co-signed as an American. We should expect all elected officials, regardless of party, and all public figures to not traffic in anti-Semitism.

— Chelsea Clinton (@ChelseaClinton) February 11, 2019
are you suggesting AIPAC is paying members of Congress?

— Jake Sherman (@JakeSherman) February 11, 2019
— Max Blumenthal (@MaxBlumenthal) February 11, 2019
Hey, just checking in, are you a politico writer unfamiliar with lobbying as a concept? I am happy to accept your job if so

— hugh (@hoverpope) February 11, 2019
Some people tried to explain the lobbying group's influence, with one person drawing attention to a tweet by the US Ambassador to Israel that described AIPAC as "Israel's national strategic asset."
I read @IlhanMN tweet and honestly did not strike me as An antiSemitic trope. Calling out AIPAC and Netanyahu is not calling out Jews, it's calling out the actions of two entities who hold a lot of power and all those who serve that agenda. Cc @bungarsargon@joshualeifer

— Mairav Zonszein מרב זונשיין (@MairavZ) February 11, 2019
If rumors are true, and the administration boycotts @AIPAC it will damage the US-Israel alliance. AIPAC is Israel's national strategic asset

— Michael Oren (@DrMichaelOren) February 21, 2015
AIPAC and their members/donors (and there are enough to make their donor base a big chunk of a regular reps fundraising effort) hold reps to an extremely firm pro-Israel line, and if they deviate, the donors will stop supporting. This is not an anti-Semitic statement. It's fact

— Augustine Rietsema (@GR20393) February 11, 2019
Ignore the histrionic idiots making false insinuations. Rational people understand that AIPAC and allied donors have outsized influence on Congress, and seek to dictate policy as it relates to Israel.

— Michael Tracey (@mtracey) February 11, 2019
AIPAC's own website explains how its Congressional Club members must "Make a minimum financial commitment of $2,500 a year, or $5,000 per two-year election cycle, to pro-Israel politics," and commit to "giving political contributions in a clearly pro-Israel context to candidates running for the United States House of Representatives and/or United States Senate."
Its education arm, the American Israel Education Foundation, brings newly-elected members of Congress on luxury trips to Israel where attendees meet with Israeli officials. The Intercept reports it has spent $12.9 million bringing 363 lawmakers and 657 congressional staff members to Israel between 2009-2018, with a typical trip costing between $9,300 to $10,500.
#IlhanOmar's just stating what everyone already knows. Even CNN's liberal-zionist Christiane @camanpour admitted to @IlhanMN , that its a right of passage for US politicians to pledge fealty to #AIPAC, the pro-#Israel lobby. Fealty is another word for servitude. pic.twitter.com/vZuPFsOvvw

— Partisangirl 🇸🇾 (@Partisangirl) February 11, 2019
AIPAC is a group that lobbies for Israel's right wing, and it bullies politicians who step out of line. This is a known fact. Anyone suggesting otherwise is being dishonest and they know it.

— Rania Khalek (@RaniaKhalek) February 11, 2019
If AIPAC money doesn't buy influence, why do they spend it?

There's nothing unusually nefarious. AIPAC is very good at lobbying, and has built lots of power, and has particular goals. That's just lobbying. Having the conversation while pretending that's not true is just weird.

— Ryan Grim (@ryangrim) February 11, 2019
Politicians on both sides of the aisle know the importance of giving speeches at AIPAC's annual conference, particularly if they are considering a presidential run, as the group will encourage its members to support pro-Israel candidates and put candidates in touch with big donors.
READ MORE: Bernie Sanders to skip AIPAC conference
AIPAC also helped draftthe Israel Anti-Boycott Act (S. 720) bill criminalizing support for the BDS after outlining in its 2017 lobbying agenda that the passage of the bill was one of its top priorities. In 2009, two congressmen forgot to remove AIPAC from a letter they sent to President Barack Obama about the Middle East peace process.
If you like this story, share it with a friend!
Via RT. This piece was reprinted by RINF Alternative News with permission or license.