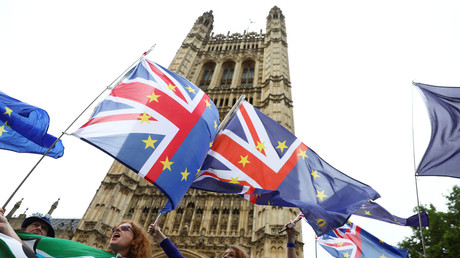 A Tory Remain rebel has warned Theresa May that 'if she f**ks us, she's f**ked,' after Conservative MPs were given assurances by the prime minister that a compromise Brexit amendment to the 'meaningful vote' will be upheld.
However, leading Brexiteer Tory MPs and ministers have suggested May had only agreed to further discussions on supporting Tory rebel Dominic Grieve's amendment. Grieve, a Remainer, endeavored to give parliament a meaningful say should a "no deal" Brexit become a prospect, reports The Guardian. That supposedly, according to BBC's Political Editor Laura Kuenssberg, drew a colorful response from a pro-EU Tory rebel: "If she f**ks us, she's f**ked."
One of the Tory rebels told me earlier – 'if she f**ks us, she's f**ked'

— Laura Kuenssberg (@bbclaurak) June 12, 2018
Conservative Remainer Anna Soubry and her colleague, Bernard Jenkin, a staunch Brexiteer, clashed on Twitter over what May had or had not promised regarding Grieve's compromise amendment. Jenkin tweeted: "There is only agreement for discussions, not concessions. Any compromise [amendment] would have to be tabled by Govt in Lords."
Soubry retorted: "But Bernard you weren't there and I was. I trust our PM to honour the undertaking she gave."
But Bernard you weren't there and I was. I trust our PM to honour the undertaking she gave. I am sure a sensible amendment will be forthcoming which we can all agree to. https://t.co/YZmdnhZWNd

— Anna Soubry MP (@Anna_Soubry) June 12, 2018
Around a dozen Tory Remainers said that May had promised them that the government would accept two parts of the amendment by Grieve, a former attorney general: a vote on the final deal and a statement from ministers to seek approval from parliament for the next steps if no deal is reached by November 30 of this year.
If you're trying to keep up, here's the original Dominic Grieve compromise amendment. First it was rejected by govt. But rebels say they were told at the 11th hour the government would bring their own version in the Lords next week, which would accept a) and b) of this amendment pic.twitter.com/ZrhJkSYTRQ

— Jessica Elgot (@jessicaelgot) June 13, 2018
Earlier in the day during the debate on the 'meaningful vote' clause of the EU Withdrawal Bill, Tory rebels were threatening to impose a government defeat until May's intervention. It meant that the UK government successfully defeated the Lords amendment, 324 to 298, to the dismay of Labour and other opposition parties.
Labour's Shadow Brexit Secretary Keir Starmer said that the only reason May's government had decided on a climb down was because 'they thought they were going to lose the vote.'
READ MORE: 'I want a general election now' – George Galloway after Tories avoid Brexit crash (VIDEO)
Further votes on EU Withdrawal Bill amendments will take place on Wednesday, with no defeats expected for the government after ministers agreed a compromise wording over post-Brexit plans for a "customs arrangement."
A section of Labour MPs are expected to defy the official party position and vote in favor of a Lords amendment to keep the UK in a Norway-style trading arrangement, better known as the European Economic Area (EEA), post-Brexit. The official Labour position will be to abstain.
Like this story? Share it with a friend!
Via RT. This piece was reprinted by RINF Alternative News with permission or license.