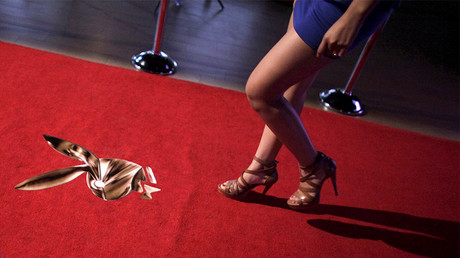 Playboy is the latest company to give Facebook the boot as the tech giant continues to suffer the fallout from the Cambridge Analytica scandal and the ensuing #DeleteFacebook initiative.
The decision was announced late Tuesday night with the company saying it had deactivated all accounts managed by Playboy Enterprises. The move will see more than 25 million fans deprived of their Playboy chosen pages when they next visit Facebook.  
READ MORE: Zuckerberg to testify before Congress on Facebook data privacy ‒ reports
"The recent news about Facebook's alleged mismanagement of users' data has solidified our decision to suspend our activity on the platform at this time. There are more than 25 million fans who engage with Playboy via our various Facebook pages, and we do not want to be complicit in exposing them to the reported practices." Playboy said in a statement. "That is why we have announced that we will be leaving Facebook's platform, deactivating the Playboy accounts that Playboy Enterprises manages directly."
Cambridge Analytica data scandal aside, Playboy also noted that it has long found it difficult to express its "values" on the social media network "due to its strict content and policy guidelines." As a result, Playboy said it has been forced to "alter Playboy's voice in order to meet Facebook's views of what is and is not appropriate on its platform."
Hugh Hefner's son, and the company's chief creative officer, Cooper Hefner also weighed in.
"Facebook's content guidelines and corporate policies continue contradicting our values. We've tried to craft our voice for the platform, which in our opinion continues to be sexually repressive," Hefner said. "Learning of the recent meddling in a free U.S. election further demonstrates another concern we have of how they handle users' data — more than 25 million of which are Playboy fans — making it clear to us that we must leave the platform."
Tesla & Space X
Playboy's decision comes in the wake of Elon Musk's announcement that Tesla and SpaceX's Facebook pages were also removed. Musk was challenged to do so by some of his followers. Each page, with about 2.6 million followers, is now inactive. Musk claimed he didn't even know his companies had Facebook pages.
I didn't realize there was one. Will do.

— Elon Musk (@elonmusk) March 23, 2018
Despite the flurry of companies announcing their departure from Facebook, none appear to be ridding themselves of their Instagram accounts, despite the company being owned by Facebook founder Mark Zuckerberg, who also owns WhatsApp.
Will Ferrell
On Tuesday, comedian Will Ferrell announced he would delete his account by Friday, explaining that, while a reluctant social media user to begin with, the Cambridge Analytica scandal "disturbed him."
"I was further appalled to learn that Facebook's reaction to such a violation was to suspend the account of the Cambridge Analytica whistleblower," Ferrell explained in a Facebook post. "I can no longer, in good conscience, use the services of a company that allowed the spread of propaganda and directly aimed it at those most vulnerable."

Cher
Singer Cher also deleted her personal Facebook, explaining while the account has helped with charity work, "there are more important things than [money emojis]." Her official page remains on Facebook.  
2day I did something VERY HARD 4 me.Facebook has helped me with my Charity, &there are amazing young Ppl there.I have a special friend (Lauren)who I Respect & Admire,but today I deleted my Facebook account .
I Love My🇺🇸🙏🏻.
I Believe….There are Things MORE"IMPORTANT"THAN💰💰

— Cher (@cher) March 21, 2018
New Zealand's privacy commissioner
New Zealand's privacy commissioner John Edwards announced he was deleting his Facebook in an article on the Spin Off. In it, he said he found Facebook to be non-compliant with the New Zealand Privacy Act.
Advertising pause
A number of other companies have stopped short of deleting their Facebook accounts, but have paused advertising with the social media giant. These companies include Mozilla, Commerzbank, Pep Boys and Sonos.
While not many companies have made the decision to depart from Facebook, many Twitter users have announced they've deleted their Facebook accounts.
Like this story? Share it with a friend!
Via RT. This piece was reprinted by RINF Alternative News with permission or license.