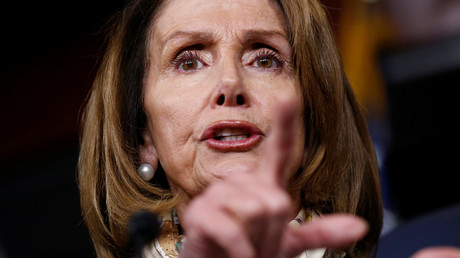 Support for the Republican-enacted tax cuts is rising even as the Democrats are making it a focal point of their 2018 midterms campaign. House Democratic Leader Nancy Pelosi found that out the hard way at a town hall in Arizona.
Pelosi (D-California) was in Phoenix on Tuesday for a tax cuts town hall, part of a 100-city tour the Democrats are organizing to underscore their opposition to the measure. She was accompanied by Representative Raul Grijalva (D-Arizona), state representative Tony Navarette and David Lujan of the Arizona Center for Economic Progress, a Democratic think-tank.
Video from the event, however, shows Pelosi getting heckled by one of the audience members as she tried to quote Rev. Martin Luther King about the rich and the poor.
"How much are you worth, Nancy?" the heckler shouts. "We're not talking about that," she responds.
Nancy Pelosi Heckled At Town Hall While Criticizing Tax Reform: "How Much Are You Worth, Nancy?"

She replies: "We're not talking about that." pic.twitter.com/mF6ycp8Tg2

— Ryan Saavedra 🇺🇸 (@RealSaavedra) February 20, 2018
According to information gathered by the Los Angeles Times in 2014, Pelosi was worth $29.3 million, with most of her assets in real estate.
No Democrats voted for the Tax Cuts and Jobs Act, signed into law by President Donald Trump just before Christmas. The party has criticized the law, saying it will disproportionately benefit corporations and the rich while low-income Americans will see no savings and may even pay more.
Their message does not seem to be resonating with the electorate, however. The most recent poll by SurveyMonkey shows 51 percent of Americans approve of the tax cuts, while 46 percent remain opposed. In December, the approval rating was at 37 percent.
"Public opinion is moving in the direction of this bill," Jon Cohen, chief research officer for SurveyMonkey, told the New York Times. "Considering where it was, it is dramatically different."
Republicans are now leading the Generic Poll, perhaps because of the popular Tax Cuts which the Dems want to take away. Actually, they want to raise you taxes, substantially. Also, they want to do nothing on DACA, R's want to fix!

— Donald J. Trump (@realDonaldTrump) February 20, 2018
Meanwhile, Trump himself has pointed out that last week's polling showed Republicans ahead of Democrats on the hypothetical generic Congressional ballot, adding that the tax cuts were responsible. Democrats are still seven points ahead in the Real Clear Politics average of major polls, however.
If you like this story, share it with a friend!
Via RT. This piece was reprinted by RINF Alternative News with permission or license.